With Most Meme-Stock Losses Recouped, Retail Army Is on the Hunt
(Bloomberg) -- After taking a beating during the meme-stock mania earlier this year, do-it-yourself investors have recovered about three-quarters of their losses. Now having licked their wounds, it's unclear whether they'll return to making buzzy bets or stick with safer offerings.
Retail portfolios had fallen 13% by the time of their peak drawdowns on March 8 -- a loss of roughly $170 billion, according to estimates from Vanda Research Ltd., which monitors the flows of U.S. individual investors. Since then, they've regained about $123 billion, the firm said.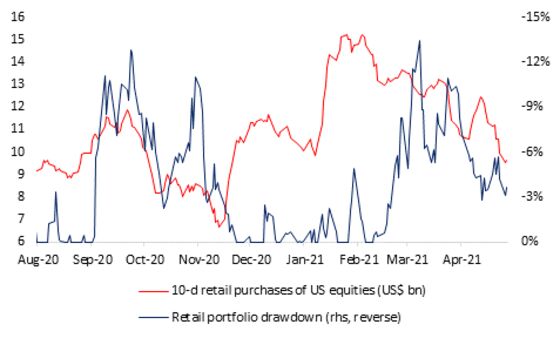 While overall U.S. trading volume has declined 74% from the Jan. 27 high, trading has picked up in recent months. Analysts see evidence of retail investors returning to markets as surveys show their bullish sentiment rebounding. And there's money to spend: Last week's March economic data showed that Americans' income had surged the most on record dating back to 1946.
"A lot of consumers are feeling pretty good overall," Ryan Kelley, chief investment officer at Hennessy Funds, said in an interview by phone. "You see your portfolios go up, you see your net worth going up and you naturally feel like you want to put some more in," he said.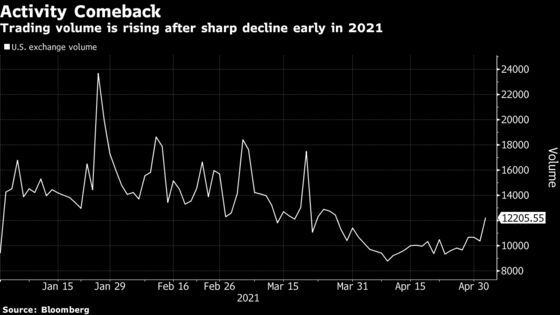 The question is where that money is going. Some analysts say do-it-yourself traders are moving into blue chips, based on gains in large versus small-company stocks. Vanda sees evidence that they are placing bets on cryptocurrencies. And their chatter continues on WallStreetBets, the Reddit forum for the day-trading community, which recently helped drive up prices of new favorites like MicroVision Inc. and Nokia Corp.
"I don't know what the next hunting ground will be for them but it will be something," Aaron Clark, a portfolio manager at GW&K Investment Management, said about retail traders. "There will be pockets of areas that they target that push stocks, commodities or something to extremes because they all sort of pile into the same area."
Hennessy Funds' Kelley has seen this force in action. His firm's stock price and volume mysteriously spiked and fell in February during the period when special purpose acquisition companies became market darlings, including a similarly-named SPAC, Hennessy Capital Investment Corp.
"We were dumbfounded," Kelley said.