With Investor Demand Surging, Peru Halts New Bond Sales
(Bloomberg) -- Peru plans to stay out of international debt markets for now, sitting out a trend that saw neighbors from Mexico to Chile selling bonds this year, as it seeks to more efficiently spend cash already on hand, according to Finance Ministry officials.
The government has suspended weekly local bond auctions until further notice and likely will limit its participation in global debt markets to liability management operations over the next two years, said Jose Olivares, head of the treasury, in an interview at the Finance Ministry in Lima.
Instead of issuing new debt, the ministry plans to better manage the 80 billion soles ($24 billion) in treasury accounts, including regular tax revenue. The policy won't affect the reserves held in its rainy day fund, Olivares said. The new approach to cash management will allow the government to post fiscal deficits below the revised ceilings announced last month for 2021 to 2023.
"It's good for us because it's less debt. It's a problem for the market, which wants more, above all, in hard currency," Olivares said. "We can't issue for the sake of issuing. We have to be responsible and minimize the impact on the fiscal deficit."
The government is also exploring the possibility of issuing green bonds or securities linked to social or sustainability projects as an alternative to widen its investor base and gauge the options for interest rates, he said.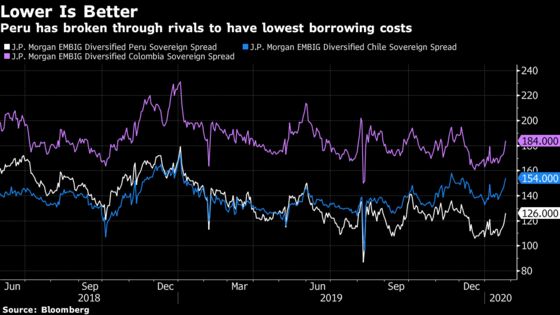 Peru's sol-denominated bond due 2029 rose to a three-month high of 113.85 centimos per sol while the yield fell 0.03 percentage point to 4.09%. The sol weakened 0.2% to 3.336 per U.S. dollar.
Despite wild politics in Peru that has seen ex-presidents jailed and the congress disbanded due to a conflict with the executive, foreign investors view the South American country as having among the most solid macroeconomic fundamentals. That perception is reflected firmly in bond metrics and backed up by a debt to GDP ratio of about 27%.
Peru's benchmark 2050 bonds trade at nearly 149 cents on the dollar with a yield of just 3.14%. The yield spread over U.S. Treasuries stands at 126 basis points compared with 342 on average for Latin American issuers.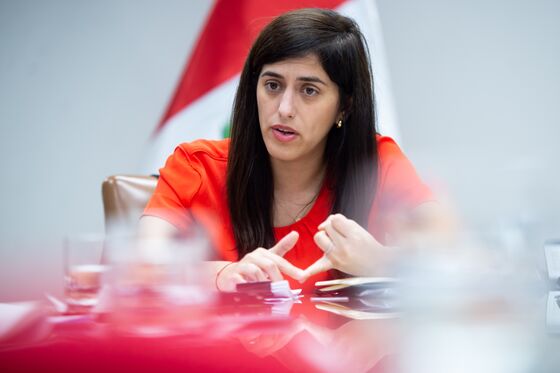 After the economy expanded at the slowest pace in a decade in 2019, the government is focused on growth this year and specifically public investment as a driver, Finance Minister Maria Antonieta Alva said in the same interview. Growth should be about 4% this year, she said.
Public investment in January has already surpassed the year-ago figure and could post record growth depending on this week's spending numbers.
In parallel, the minister is meeting with private businesses to assess a portfolio of 12 investment projects worth up to $25 billion to help untangle any delays.