With Christmas Films Gone from Theaters, 'Frozen II' Reigns
(Bloomberg) -- "Frozen II," the animated musical from Walt Disney Co., nabbed first place at the U.S. box office for the third weekend in a row.
It took in $35.2 million this weekend domestically, Comscore Inc. said Monday, putting its North American total at $338.1 million. Add in hundreds of millions in overseas revenue, and "Frozen II" is getting a bit closer to overtaking its 2013 predecessor as the highest grossing animated film of all time, although that still may be a stretch.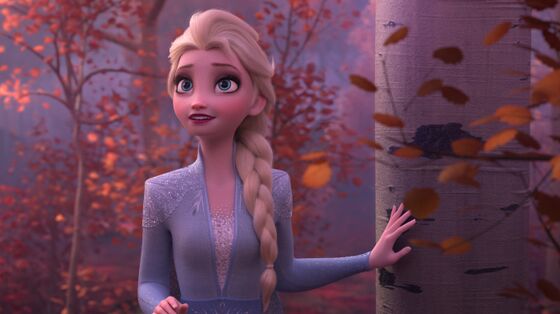 The first film, released six years ago last month, turned into a cultural phenomenon -- with many parents taking their kids multiple times to see it in theaters. Repeat viewing was driven in part by Princess Elsa's coveted blue dress and her ubiquitous hit song "Let it Go," and the movie ultimately scored $1.27 billion at the box office.
While the sequel hasn't spurred that level of fanaticism, it has benefited from a schedule relatively light on children's movies.
In the past, studios released holiday themed films like Disney's "The Nutcracker and the Four Realms" or Universal's "Dr. Seuss' The Grinch," in theaters. This year, family-friendly Christmas films like "Noelle" and "Klaus" are going straight to streaming services such as Disney+ and Netflix.
"It has a wide open playing field as the only big screen, winter-themed animated family film at the multiplex," said Paul Dergarabedian, senior media analyst at Comscore. "With all the streaming options available, it's made the movie theater experience seem extra special, particularly to kids."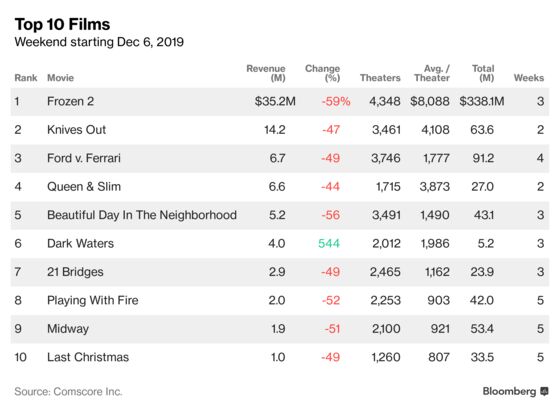 The biggest competition for "Frozen II" could come next weekend with the release of Sony's "Jumanji: The Next Level," a sequel to the 2017 hit. "Black Christmas," also opening next weekend, is a PG-13 rated horror film.