Wisconsin Governor Scott Walker Concedes to Democratic Challenger
(Bloomberg) -- Wisconsin Republican Governor Scott Walker lost to Democrat Tony Evers, halting the rise of the one-time GOP darling in one of the nation's key swing states that had helped deliver the presidency to Donald Trump.
Walker conceded to Evers, the state schools superintendent, Wednesday, according to a statement from the governor.
"Thanks to Tony Evers for his gracious comments on our call today. I offered the full support of my staff and our cabinet as he begins the transition process," Walker said.
The tally was so close earlier in the day -- with a margin of about 1 percentage point -- that a recount was possible. Lieutenant Governor Rebecca Kleefisch said then the state was preparing for that possibility.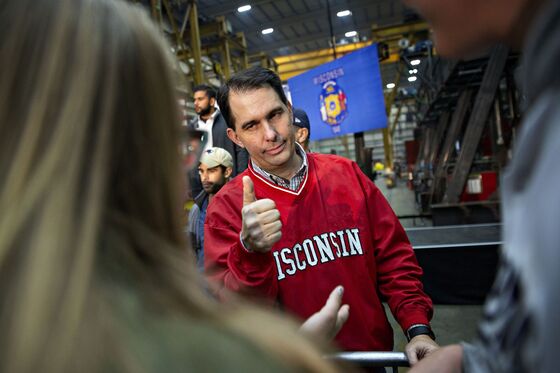 Walker's efforts to restrict collective bargaining for most public workers had sparked massive protests early in his first term. The clashes brought him to national prominence as a villain of labor and hero of conservatives. He survived a 2012 recall election despite heavy union spending.
Walker had warned supporters that a possible "blue wave" could take him down, in part because concerns about Trump's tariffs weighed on GOP candidates. The U.S. Chamber of Commerce considers the Badger State among the most vulnerable to a prolonged trade war. Wisconsin narrowly went to Trump in 2016, after not voting for a Republican for president in more than three decades.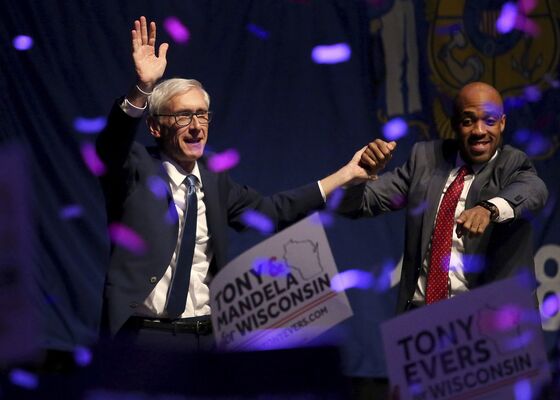 Walker's loss is "a return to the state's more competitive practice of having divided government, rather than one-party control of state government, and a turn away from the conservative revolution that Walker led," said Charles Franklin, director of the Milwaukee-based Marquette Law School poll, who has closely followed Walker's political career.
Walker pushed to make Wisconsin more business-friendly, cutting corporate and personal tax rates. He championed a deal with Foxconn Technology Group to bring a factory and the promise of thousands of jobs to Wisconsin in exchange for $3 billion in state aid. The deal was the biggest corporate subsidy package ever awarded to a foreign company, raising questions about the true costs of such assistance and inviting skepticism about the ultimate return.
Health care also was an issue in the race. While Walker pledged to protect insurance coverage for those with pre-existing health conditions, Wisconsin is a lead plaintiff in a Republican-backed lawsuit that's seeking to scrap Obamacare.
Walker paid the price of an incumbent whose party is in control at the federal and local level, said Barry Burden, professor of political science at the University of Wisconsin-Madison and director of the school's Elections Research Center.
"Today for Wisconsin voters, it's Republicans up and down the ballot," Burden said. "They control Washington, both Congress and the White House. They control the state legislature and the governorship in Wisconsin. So if you're an unhappy voter, it's obvious who to blame -- Republicans are in power."
Seeking a third term is unusual for governors in general and it's a rarity in Wisconsin, according to Burden. Walker's loss comes three years after his 2016 presidential ambitions were dashed by Trump. This race had been seen as the fight of Walker's political life.
"The setback of his failed presidential bid now coupled with a failure to be re-elected is certainly a major setback to his future ambitions beyond the governorship," Franklin said. "There are comebacks in politics. But it makes it much harder for him to aspire to national office without the platform of the governorship to build on."