Wingstop's Strong Growth Outlook Doesn't Halt Downgrades
(Bloomberg) -- Wingstop's shares have received three downgrades in the last week on valuation, despite analysts who are generally bullish ahead of earnings due on Monday.
Stifel's Chris O'Cull downgraded the stock to hold from buy, even though he remains confident in the company's outlook. He wrote in a note to clients that the stock's "valuation has improved to a level that we believe largely reflects the company's significant growth potential."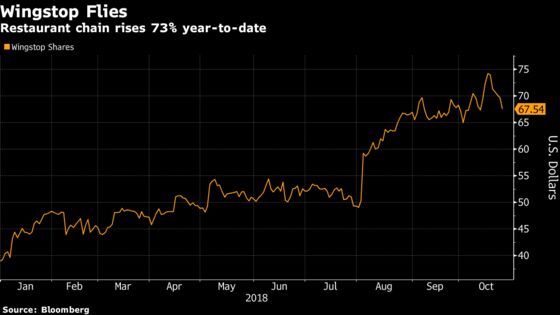 Instead of doubts in the restaurant chain, he points to rising interest rates impacting valuation. O'Cull wrote that the cut "reflects our concern that valuation multiples could compress with rising interest rates, negating the benefit of a growing earnings/cash flow base."
Analysts including Morgan Stanley's John Glass and Wedbush's Nick Setyan, who both recently downgraded the stock, expect to see same-store sales growth coming from digital ordering and a rollout of delivery in 2019, among other catalysts. The stock is up about 73% year-to-date and rose some 34% in the last 3 months alone.
Setyan wrote in a note to clients that Wedbush believes drivers of comp. sales, unit growth and margin upside relative to current consensus 2018 and 2019 estimates exist. "Nevertheless, we believe Wingstop's current valuation appropriately reflects this potential for upside."
Glass wrote that Morgan Stanley made the cut "purely on valuation." He noted a "healthy" 2019 top-line outlook, and a boost in the price target to $69 from $60, based "in part on an increase in assumed top-line benefits from higher national advertising spend," as well as the delivery rollout.
There are other pressures, as well. The restaurant sector is expected to slide amid China concerns and a market sell-off.
Wingstop shares are down as much as 3.7 percent to the lowest intraday since Oct. 4. The chain reports third-quarter earnings Oct. 29 after the market close.