Chicken Wing Prices Catch Fire Before Super Bowl
(Bloomberg) -- The chicken-wing market is red hot.
Prices for wholesale wings are heading for a 24 percent surge in January, more than wiping out their 2018 losses, government data show. Demand is soaring ahead of Super Bowl weekend, when Americans are forecast to eat a record 1.38 billion wings, according to the National Chicken Council.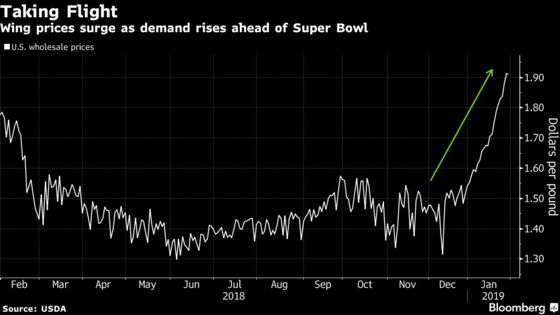 While prices usually jump at this time of year thanks to the annual football parties (or for some, Puppy Bowl parties), this month's gains are unusual -- it's the biggest January jump in records going back to 2011. That's because the market tumbled last year amid a boom in production. Wings dropped so low that buyers swooped in to grab the deals, said Russ Whitman, senior vice president at commodity researcher Urner Barry.
Orders by food-service suppliers in New England and Southern California in particular are seeing big gains, he said. At the same time, poultry producers have recently raised fewer jumbo chickens, meaning tighter supplies of the big wings that are considered a premium product. Gains for jumbo-wing prices are driving the overall market, he said.
At the end of last year, food suppliers thought "'My gosh, wings are a bargain again, and there's plenty of them, so we're going to start featuring them again,"' Whitman said. "Today, this wing market is on fire."