Windstream Creditors Object to Elliott-Backed Restructuring Plan
(Bloomberg) -- A group of Windstream Holdings Inc. creditors are planning to object to its proposed bankruptcy plan and settlement with Uniti Group Inc. because it unfairly benefits creditors including Elliott Management Corp., according to a letter filed in bankruptcy court.
The settlement strips value from Windstream for the benefit of equity rights offering backstop parties, and was designed to give them additional benefits to secure their support for the bankruptcy plan, according to a lawyer for second-lien creditor Contrarian Capital Management LLC. The second-lien creditor group represented by Milbank LP intends to file a formal objection to the settlement and restructuring plan, according to the letter.
The proposed bankruptcy plan isn't fair to all Windstream creditors in part because the proposed Uniti stock sale in the settlement isn't open to any participants beyond the backstop parties, according to the letter signed by James Millar at Faegre Drinker Biddle & Reath LLP. By selling Uniti shares at a substantial discount, it transfers at least $150 million of value to those creditors, resulting in a windfall of $527.4 million based on recent market prices.
Both the settlement and restructuring plan announced by Windstream Monday are broadly opposed by creditors who are not signatories to the bankruptcy plan, according to the letter. The proposed settlement will give Windstream more than $700 million in cash and $1.75 billion in capital improvements, and Contrarian believes the second-lien and unsecured creditors have a claim to at least some of that value.
Windstream's first-lien notes due October 2025 fell 5 cents on the dollar Tuesday to about 74 cents, to yield 16%.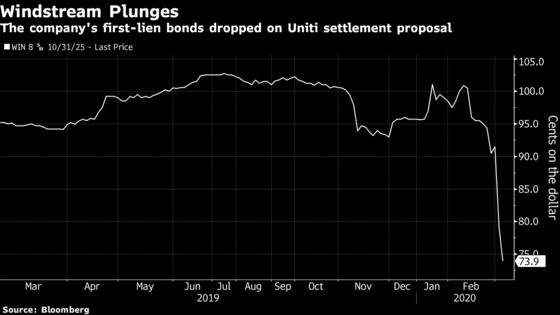 Elliott Management, which owns a dominant position in Windstream's capital structure, is a signatory to the company's proposed restructuring plan. The New York-based asset manager run by Paul Singer agreed to purchase 52.5% of the backstop of a $750 million equity rights offering, with certain first-lien creditors providing the balance. Those creditors also have the option to purchase as much as $375 million of new stock, on a pro rata basis based on their backstop commitments, according to the plan.
"Windstream debtors appear to have largely abdicated their responsibility to a select group of creditors," according to the letter. Those creditors "have sought to maximize their own recoveries rather than maximize the value of the estate for all creditors."
Representatives for Windstream and Contrarian declined to comment. Representatives Uniti, Elliott and Milbank didn't immediately respond to requests for comment.
Windstream narrowly averted a trial with Uniti over their lease that allows the bankrupt telecom company to use Uniti's network assets to provide landline phone service. Windstream, which created Uniti through a spinoff of those assets in 2015, said the lease was overvalued.
Windstream filed for bankruptcy in early 2019 after Aurelius Capital Management LP alleged that the 2015 spinoff and the lease agreement violated the terms of Windstream's bonds. A federal court agreed.
The bankruptcy case is Windstream Holdings Inc., 19-22312, U.S. Bankruptcy Court, Southern District of New York (White Plains).