Will London Ever Get Affordable Housing?
(Bloomberg) -- The Mayor of London says enough homes can be built over the next decade to solve a housing shortage that's driven prices beyond the means of average Londoners. Signs the property boom is ending may make his ambitious goals harder to reach.
Sadiq Khan, whose victory in 2016 was built on a pledge to fix the U.K. capital's broken housing market, is calling for 65,000 new homes a year, with half affordable for moderate earners. But his effort depends on developers, who are leery about the outlook for prices after delivering 39,560 housing units last year, the most in more than a decade.
"Who is going to start a major residential scheme in central London at the moment when no one has any idea where house prices are going?" said John Tutte, chief executive officer of Redrow Plc, a builder based in Flint, England. "I just can't see they are going to get the housing numbers delivered."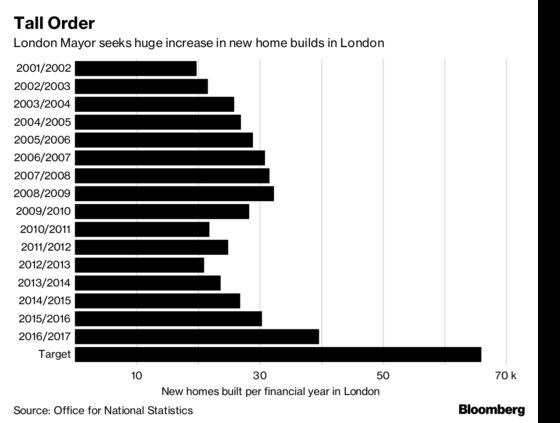 Falling prices aren't the only hurdle. Industry analysts cite a shortage of skilled labor, insufficient central government funding and stonewalling by local authorities. Some developers also balk at building blocks of affordable flats because in recent years they were often less lucrative than expensive ones targeted at wealthy international buyers.
"Developers have been building in London, just the wrong kind of home," said Richard Donnell, the head of research at Hometrack, which provides data and analysis on the property market. The firm estimates it costs a record 14.5 times the average London salary to buy a property, after incomes failed to keep pace with a surge in home prices since 2012.
Construction starts for super-prime homes, the most expensive, jumped by more than half from 2015 to 2017, according to Molior London, a research firm. In price brackets most Londoners can afford, starts declined. An increasing number of high-end properties remain unsold as demand falters.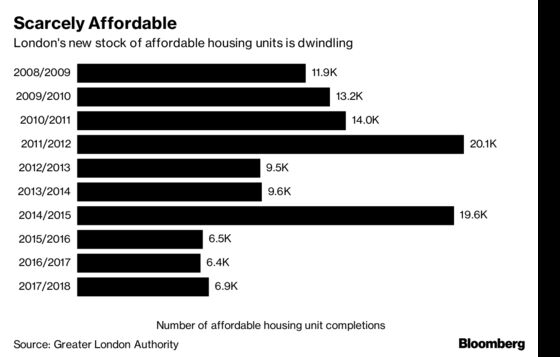 Khan's draft London plan, unveiled late last year, provides a blueprint to shape development across the capital for the next two decades, from housing to transport to infrastructure. To spur home-building, it encourages local councils to identify sites for development, relaxes limits on density and seeks to speed approvals, without encroaching on the so-called green belt around the city.
Khan is also using a 250 million-pound ($335 million) land fund to buy plots for housing. Earlier this month the Mayor acquired a site in Haringey for hundreds of homes, half of which will be affordable.
The borough of Wandsworth shows the difficulty in getting reasonably priced homes built. Prices fell almost 16 percent in the year through February after fewer high-end apartments sold. The slump may make it harder to attract developers to build the flats called for under Khan's plan.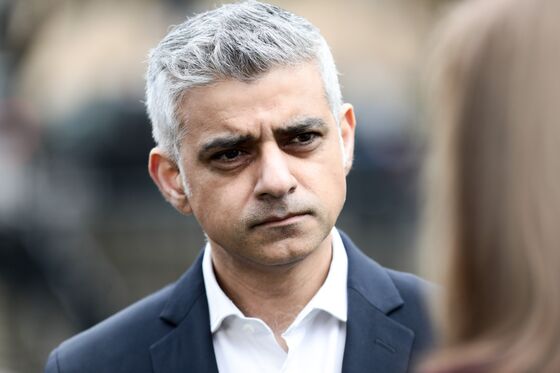 Even outer boroughs like Havering, where prices are stable, will struggle, said Clarence Barrett, a member of the Havering council. His borough's annual housing quota was raised under Khan's plan by more than half to 1,875 units a year.
"Unless we build tower blocks to the moon I don't know how we are going to achieve it," Barrett said.
James Murray disagrees. In an interview, London's deputy mayor for housing pointed out that Havering rejected a proposal in March from L&Q Group to build Beam Park. The development would include up to 2,900 homes, half at affordable levels, along with a new railway station, two schools and a medical center, he said. In this case, Mayor Khan will have the final say on the project.
"It is possible in principal to build the homes we need. What we need is the right support to deliver them," Murray said in his London office. "To have a real step change—to double housing output—we need a lot more investment and powers from government and we have been very honest about that."
It isn't easy making things happen in a city as large and complex as London, with legions of stakeholders who often have competing interests. And there are events beyond anyone's control, like Brexit. Britain's departure from the European Union threatens to weigh on prices while depleting the number of workers from the bloc, who currently make up about half of those building homes in the capital.
Ian Sutcliffe, the CEO of Countryside Properties Plc, a Brentwood, England-based builder, said a lack of skilled labor is "the biggest impediment" to reaching Khan's housing goals.
Given all the obstacles, homes in London are likely to remain out of reach for the nurses, firemen, teachers and policemen who provide crucial services to the city, said Shamez Alibhai, head of Cheyne Capital's 750 million-pound Social Property Impact Fund. He says his fund has financed the construction of 1,000 affordable homes in the U.K. since it started in 2014.
"The government needs to find alternate forms of delivery, because the traditional model is broken," he said.
(This is the third and final story in a series on the outlook for London's housing market as it runs out of steam after almost a decade of growth.)