Will This Buyout Embarrass the Stock Market?
(Bloomberg Opinion) -- An entrepreneur runs up against stock-market short-termism and agrees to take his company private, rolling over some of his stake in the process. Not Elon Musk at Tesla Inc., but the rather quieter Peter Wood at U.K. motor and home insurer Esure Group Plc.
A 1.2 billion-pound ($1.5 billion) offer from Bain Capital Private Equity LP will test whether private ownership really is better for a growing company in need of accelerated technological investment.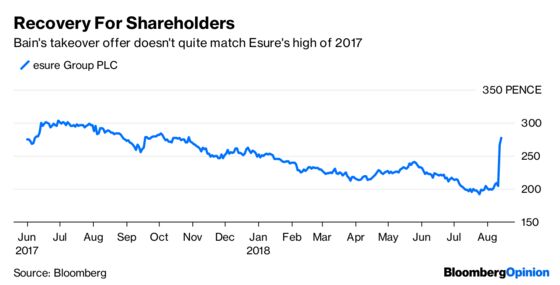 Before Bain's interest emerged, Esure had generated a 31 percent total return for shareholders, assuming they reinvested their dividends, in its more than five years as a publicly traded company, less than the 52 percent average of the FTSE All-Share index, according to Bloomberg data. The takeover offer will turn that anemic result into a decent out-performance.
The shares had slipped by a third from their 2017 high following a bad U.K. winter and the departure of Esure's CEO. Bain exploited that weakness to pounce with an offer pitched 29 percent above the three-month average share price and 8 percent below the peak.
It's hardly a spectacular premium. The deal values the company at 12 times consensus estimates for this next year's earnings, midway between the multiples for Admiral Group Plc and Hastings Group. Don't bank on an interloper, though. Wood is backing the deal, rolling over a portion of his 31 percent stake, and will keep his chairman role.
The buyout will allow the new owners to apply a strategy the public markets wouldn't tolerate. Insurance is going through its own technological revolution. Companies want to price policies better while asking customers fewer questions, not more. Tech could make processing claims faster and cheaper, too. Rather than fill in endless forms, customers could eventually be able to upload a photo of a crash to set the ball rolling on a repair.
Bain's expertise in payments processing through its former ownership of Worldpay and outsourcers should help. Esure's small size and expertise may give it an advantage over the big quoted insurers despite the latter having more customer data from multiple policies and much bigger IT budgets.
But regulators won't let Bain heap more debt onto Esure so leverage does the work. To make a mid- to high-teens return will mean doubling Esure's value over five to seven years. It's possible a big technological leap forward could enable Bain to exit at a higher multiple – but the buyout firm can't bank on that.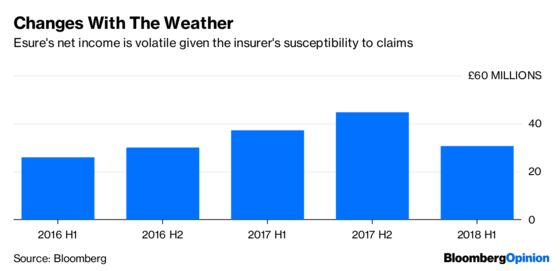 The challenge will be to turn Esure into something the public markets will lap up in another IPO. Being larger and more diverse may deal with stock-market investors' shock that Britain's occasional bad weather inflicts costly claims on the business. It may make future technology spending less daunting, too.
Bain's bumper profit from Worldpay embarrassed its former owner Royal Bank of Scotland Group Plc. Esure's shareholders may well be in for a similar experience.
This column does not necessarily reflect the opinion of the editorial board or Bloomberg LP and its owners.
Chris Hughes is a Bloomberg Opinion columnist covering deals. He previously worked for Reuters Breakingviews, as well as the Financial Times and the Independent newspaper.