Musk Isn't Alone in Riling Regulators as AIM Tightens Grip
(Bloomberg) -- Earlier this year, an unidentified company trading on AIM had an Elon Musk moment, posting material information on social media before it went out on official channels. The move earned it a fine and a slap on the wrist from the venue's regulator.
"We encourage companies to use social media," Marcus Stuttard, head of London Stock Exchange's AIM market for growth companies, said in an interview, "as long as all existing investors get the same level of information at the same time."
The sanction was reflective of a wider push by AIM to rid itself of its "Wild West" reputation. Companies have raised a combined 110 billion pounds ($144 billion) since AIM started in 1995. And the venue's rules have been tightened progressively over the past decade, according to Andrew Crossley of London broker Stockdale Securities Ltd.
Crossley, who also sits on AIM's advisory board, thinks the clampdown has contributed toward a jump in the amount of money changing hands. Average daily trading value for a stock listed on the venue has jumped 200 percent over the past two years, according to analysis by accountancy firm UHY Hacker Young.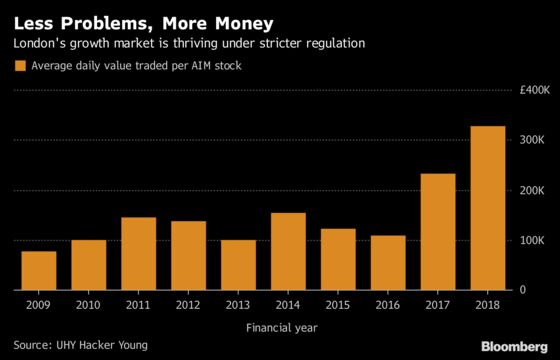 The clampdown isn't over. From Sept. 28, AIM companies must now disclose details of which recognized corporate governance code they follow. That measure should help to give investors more confidence in the market and therefore boost liquidity, UHY's Laurence Sacker said by email.
There are of course other factors working in AIM's favor. Its investors, for example, benefit from more favorable inheritance tax measures than those trading on the main market, Crossley notes. He also says there's been a rise in the number of people building portfolios for their self-invested personal pensions through companies like Hargreaves Lansdown Plc.
AIM turnover is also just simply higher because its companies are a lot bigger at the point of IPO than they were a decade ago, Stuttard said. That's partly because there's better private fundraising options and tax breaks that allow companies to build scale before going public, he added.
In fact, some of the "small cap" exchange's members are no longer actually that small. The standout examples include online retailer Asos Plc, whose market value is bigger than that of seven FTSE 100 constituents, and beverage mixer-maker Fevertree Drinks Plc, whose value overtook its main market-listed peer, Britvic Plc, more than three years ago.
Crossley notes a number of companies that were viewed as unsuitable for AIM have been de-listed or taken over in recent years. There were 937 companies trading on its primary market as of September, down 4.6 percent over the past two years, and almost 45 percent lower than its 2007 high of 1,694, according to London Stock Exchange data.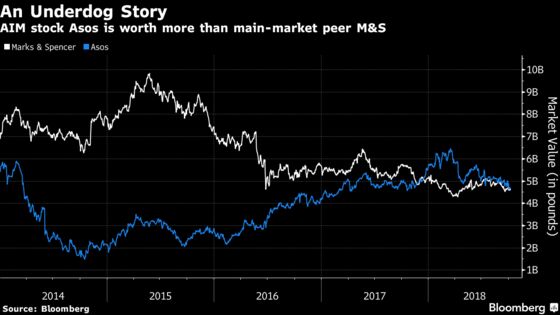 Meanwhile, as AIM has become more established, those higher-value companies are no longer as keen to jump ship to the main market once they've achieved their desired growth, Stuttard says.
Closer scrutiny of companies joining the venue has helped improve its image significantly, adds Crossley, who's a nominated adviser or "nomad" to AIM firms. Nomads act as a go-between for the exchange and the company, and vet the firms they advise. That's stopped some companies that would, perhaps, have been allowed on to AIM five or six years ago from gaining a listing, he said.
"Some of the Chinese companies for example -- who really, with the benefit of hindsight, didn't have the structures around them that made them a fit for the London market -- those companies today would struggle to fulfil the 'Is this company fit for public markets?' AIM rule," Crossley added.
But while confidence in its regulations has helped attract more investors, AIM has also kept the balance about right, says Gervais Williams, who co-manages over a billion pounds in U.K. equities for Miton Group Plc in London.
The nature of AIM, given that its companies are usually undeveloped, is that it offers higher levels of risk and reward, he says. "You don't want to just take that away."