Why Jeff Bezos Is Rich and British Stores are Closing Down
(Bloomberg) -- Jeff Bezos and U.K. electronics retailer Comet are at opposite ends of the online shopping craze.
Comet and other bricks-and-mortar chains including Toys "R" Us have disappeared from British towns in recent years, the victims of competition from internet retailers. Bezos, the founder and chief executive officer of e-commerce giant Amazon.com Inc., is now the richest person in modern history.
Figures published Thursday show the amount of money spent online in U.K. retail has increased by sixfold over the past decade, in contrast to only modest growth in sales in stores. The boom has taken off in the last three years, with online sales surging 16 percent in 2017 alone to almost 60 billion pounds ($79 billion).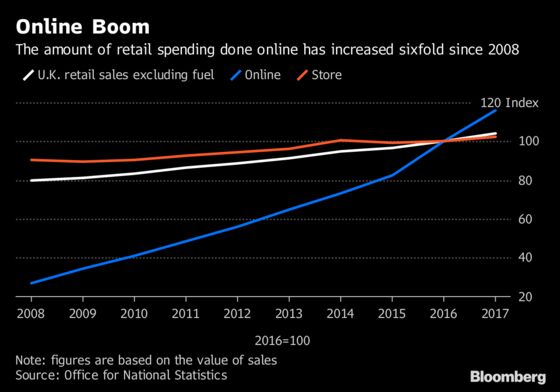 While most spending continues to be done in stores, the share taken by online retailing is rising fast. It reached a record 18.2 percent in August compared with an average of less than 5 percent in 2008, the Office for National Statistics said.