Why Gaza Is on the Verge of Another Meltdown
(Bloomberg) -- Israel and Hamas are again at the precipice of war just as Gaza's economic woes are being brought to a head by an unlikely player: Palestinian Authority President Mahmoud Abbas.
After an Israeli operation inside the Palestinian coastal enclave went wrong on Sunday, Hamas launched rocket barrages on the Jewish state and Israeli jets struck inside the tiny territory. Long before that, though, Abbas was refusing to pay Gaza's power bills, opposing diesel shipments from Qatar and slashing the salaries of 70,000 Gaza civil servants he is responsible for paying.
The combined result: A population of 1.8 million people trapped inside a narrow coastal enclave that is more and more volatile. Hamas has sought to channel Gazans' growing dissatisfaction against Israel, in a campaign of border protests that have grown increasingly violent since they kicked off in March.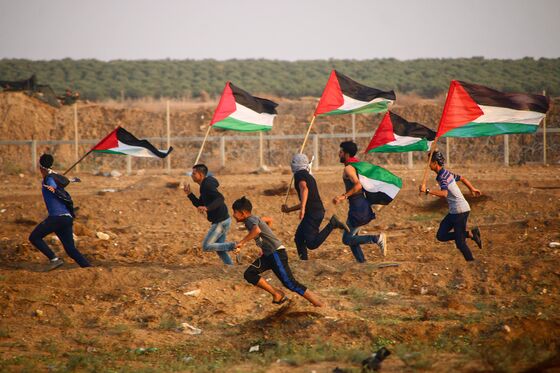 "This was preliminary—a full-scale conflict is inevitable," said Grisha Yakubovich, a former Israel military commander in Gaza who now does business with Palestinian companies there. "Hamas will never ever ever give up. They have a dream to replace Abbas and the Palestinian Authority."
The World Bank says Gaza is in "free fall," no surprise in a territory where unemployment has exceeded 40 percent for four years and 95 percent of the water is undrinkable. The economy shrank by 6 percent in the first quarter of 2018. The pain stems from an Israeli and Egyptian blockade, which has squeezed the economy since it was imposed after Hamas' takeover of the territory more than a decade ago. Palestinian Authority sanctions and Hamas' tendency to prioritize military spending over welfare have exacerbated the plight. Cuts in U.S. assistance under the Trump administration have jeopardized schools, hospitals and food giveaways, according to a recent report.
For unemployed Gaza teacher Islam Ibrahim and his family, Abbas's sanctions have meant as little as four hours of electricity a day. The lamb kebabs are turning rancid in the fridge, the children are doing homework by candlelight and Ibrahim often misses broadcasts of his beloved Real Madrid soccer club.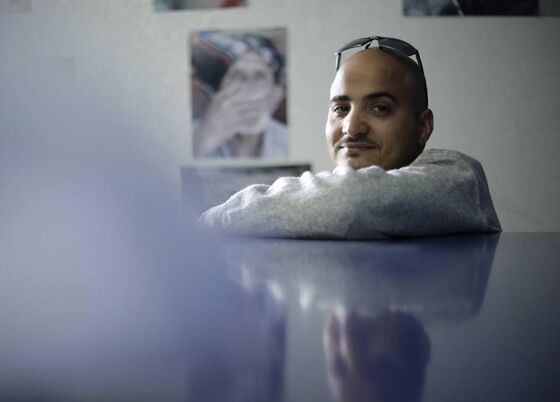 "We're the ones who pay the price" for Abbas's feud with Hamas, said Ibrahim, 32, gesturing from his crumbling stoop toward the dark streetlamps nearby as he smokes a cigarette. "This is a humanitarian issue. It should not be about politics, because it affects everything in our lives. It hurts our health, our schools and our economy."
The Palestinian Authority has "never neglected its responsibilities toward its citizens in the strip" but rejected all "suspicious campaigns" to supply aid to Gaza that might divert attention from the Israeli blockade, said spokesman Ahmad Chami. "All international financial aid to the Gaza Strip should be through or in coordination with the Palestinian government."
The recent round of violence began when an Israeli operation inside the Hamas-controlled enclave went wrong. A high-ranking member of Hamas's military wing and an Israeli lieutenant-colonel were killed in a deadly clash that claimed the lives of six other Palestinians. Israeli Prime Minister Benjamin Netanyahu cut short a trip to Paris to return home. 
Thirteen Gaza militants, an Israeli soldier and a Palestinian living in Israel were killed in this round of attacks, which threatened to scotch efforts by Egypt and the United Nations to forge a sustainable cease-fire and ease the dire humanitarian situation in the strip.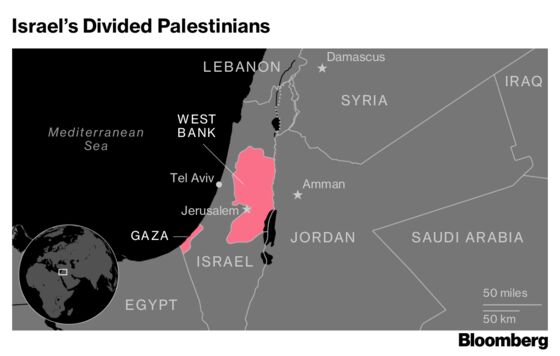 Netanyahu said in mid-October that Israel was getting ready to inflict "powerful blows" against Hamas. "If they do not stop the violent attacks against us, they will be stopped in a different way and it will be painful," he said.
"President Abbas's failure to confront the occupation and the American administration makes him threaten the Gaza Strip population and promise more punitive measures against Gaza,'' said Hamas spokesman Hazem Qasam. "Sticking to security coordination with the occupation and continuing his steps of isolating Gaza are the main obstacles for our people to gain their freedom and independence."
The attacks came after several positive developments. Late last month an Egyptian-mediated deal with Israel enabled Qatari-funded fuel to enter Gaza, but the strip is still blacked out at least eight hours a day. In the past few days another Qatari grant was used to pay some of the overdue wages.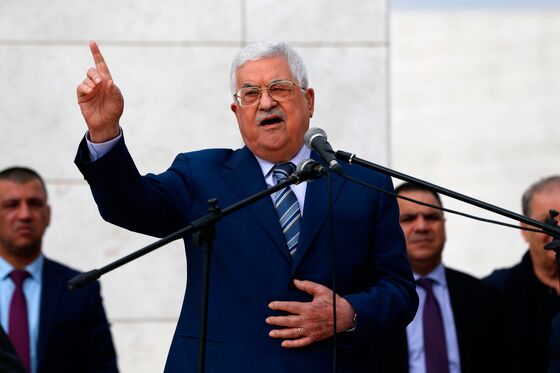 Trump has closed the Palestinian mission in Washington, slicing annual aid to the Palestinians and cutting the $300-million U.S. allocation to the UN agency that supports Palestinian refugees. Trump's recognition of Jerusalem as Israel's capital last December infuriated the Palestinian leadership, which cut off diplomatic contacts with the administration. Palestinians want the eastern part of the city as the capital of their future state and say it's fate must be negotiated.
Abbas told the Palestine Liberation Organization's Central Council last month it may have to abandon 25 years of peace efforts in order to galvanize international pressure for Palestinian statehood.
"Every person must put his hand on his heart and his conscience and not be subject to blackmail, bargaining and pressure," he said in an Oct. 28 speech in Ramallah. "You must recognize that you are facing a historic decision: To be or not to be."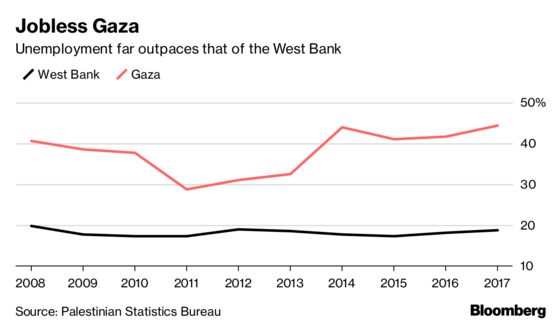 While eyewitnesses say Gazans are increasingly frustrated with Hamas's draconian rule—the rare anti-Hamas protests in Gaza are immediately put down by force—the strip's residents are also seething at both Abbas and Israel, according to Mkhaimar Abusada, a political scientist at Gaza's Al-Azhar University. Hamas is happy to let its two adversaries take the blame for Gaza's plight.  
"It's the average Palestinian who is suffering, and Hamas just doesn't care," Abusada said. "The attitude toward Abbas is dislike, but Israel is the enemy."
Yakubovich, the Israeli commander, says Israel should stop pretending Hamas will ever turn over control of Gaza to  the Palestinian Authority. Better, he said, to find a way to operate in Gaza's current reality.
"I'd prefer dealing directly with Hamas," he said. "They will have to take responsibility."