Illinois Turns Warily to Bonds to Plug $134 Billion Pension Hole
(Bloomberg) -- Illinois Governor J.B. Pritzker is taking a page out of his predecessors' pension-fund playbook -- and he's trying to learn from their mistakes.
The Democrat's budget plans Wednesday proposed sell $2 billion of bonds to inject cash into the state's retirement system, a tactic tried in 2003 that failed to stop the swelling pension-fund debt that's pushed Illinois's credit-rating to the cusp of junk. But his deputy governor, Dan Hynes, said it won't be a way for the government to shirk its annual contributions to the funds, as happened after Governor Rod Blagojevich's record $10 billion debt sale sixteen years ago.
"This time you have people who understand the devastating effects of doing what he did," said Robert Martwick, a state representative who chairs the House's pension committee.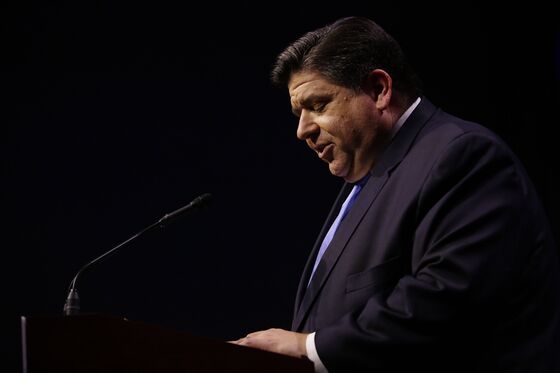 The potential borrowing is part of a broader plan by the new governor to tackle Illinois's $134 billion debt to its pension funds, one that also includes raising taxes and potentially handing government assets like office buildings over to the retirement system. Hynes said last week that the $2 billion would supplement Illinois's annual contribution -- not be used to cover it -- in a wager that the investment earnings will reduce what the state owes.
Pritzker's approach, if enacted as proposed, would mark a break from how previous governors used pension bonds to cover their annual payments or hold down such contributions. That practice drove Illinois deeper into the hole as it failed to set aside enough money each year to ensure that the state will be able to pay for all the benefits that have been promised to employees.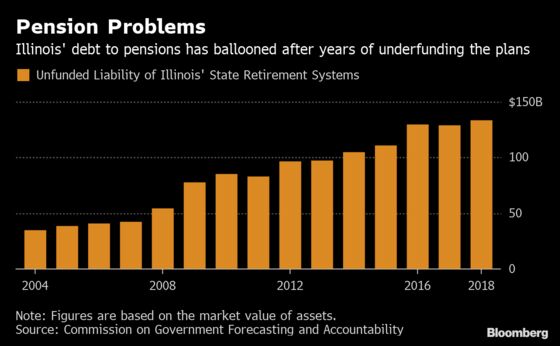 After the 2003 sale, the state's failure to make sufficient annual payments into the funds from 2005 through 2008 added nearly $12 billion to Illinois's unfunded retirement obligations, according to an analysis by the state's Commission on Government Forecasting and Accountability of the period from 1985 to 2012. The commission's study found that such shortchanging did far more than any other factor, including stock market losses and benefit increases, to create Illinois's pension shortfall over that time.
A $3.5 billion bond sold in 2010 was also used by Illinois to cover its pension contributions as the state was contending with the fallout of the recession. Another $3.7 billion were issued in 2011.
Thad Calabrese, a professor at New York University who studies pension bonds, said the danger is that politicians will use them to avoid necessary but politically difficult decisions, like tax increases or budget cuts. "There's going to have to be some actual sacrifice," he said.
If Illinois hadn't shortchanged the retirement system, the 2003 bond issue would have helped because the investments have earned more than the state paid in interest, according to an analysis by the Illinois forecasting commission.
Whether Pritzker would receive such luck is unclear, with stock prices not too far from their peaks and speculation that another recession may be overdue. That raises the risk that Illinois could find itself worse off if it plows borrowed money into investments that sour.
"People are talking about markets being at the top of the cycle -- what does that mean for equity returns?" said Jason Appleson, a portfolio manager at PT Asset Management LLC.
But the bond issue is just one part of the Pritzker administration's plan, and Hynes said it would only be sold "if the calculation makes sense for taxpayers."
Overall, the reception among investors and analysts to his plan was mixed, in part because its impact will also hinge on Pritzker's ability to persuade voters to jettison the flat income tax to raise funds. Moreover, it would give Illinois seven more years to meet its target of being 90 percent funding to ease immediate pressure on the budget. Fitch Ratings on Tuesday said the plan, on its own, is unlikely to affect Illinois bond rating, and some investors are also skeptical it goes far enough.
"All these gimmicks with the pension bonds and trying to transfer state assets into the pension funds -- it seems more like an accounting gimmick than a true funding mechanism," said Triet Nguyen, managing partner at Axios Advisors.