Why 3% Is a Magic Number for 10-Year Treasury Yields
(Bloomberg Opinion) -- If it weren't such a cliche around the holiday season, this column could very well be called "The 12 Days of 3% Treasury Yields."
After all, the benchmark yield briefly dropped below 3 percent on Thursday, crossing that magic number for the first time since Sept. 18. And starting next week, there are 12 trading sessions until Dec. 19, when the Federal Reserve is widely expected to raise interest rates. What's not so clear, though, is what central bank officials plan to do in 2019, given that Fed Chairman Jerome Powell on Wednesday abruptly changed his tone on tightening, saying that rates are "just below" neutral, in stark contrast with his "long way" characterization in early October.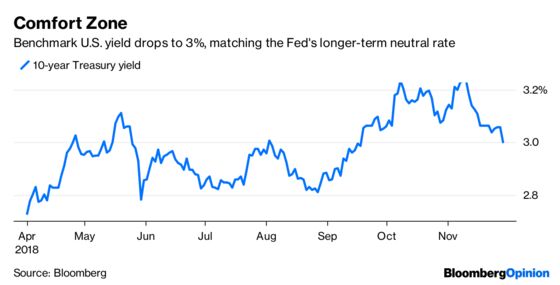 Fed policy makers have been fairly open about confessing that they don't know the exact neutral level. That's seen most obviously in their dot plot, which indicates a range of 2.5 percent to 3.5 percent for projections of the longer-term rate. The median, though, is 3 percent, which puts a semi-firm floor on how far yields can fall for now. Given all the other forces at play in the world's biggest bond market, from larger Treasury auctions to paltry currency-hedged yields for overseas investors, it feels as if that dot has to drop to draw in buyers below 3 percent again.
At the same time, Powell's walkback can't be too encouraging for bond bears, either. Remember, the 2018 high for the 10-year Treasury yield is 3.26 percent, or about 25 basis points from the current level, and that came just days after the remarks that my Bloomberg Opinion colleague Dan Moss called a "rookie mistake." 
It all appears to be pointing to a few weeks of bond traders awaiting further Fed guidance, with Treasuries fluctuating in the meantime. Consider the setup: The 10-year yield is trading right around its 100-day moving average. Bank of America Corp.'s MOVE Index, which tracks price swings on U.S. Treasury options, is at a six-week low. JPMorgan Chase & Co.'s client survey for the week ended Nov. 26 showed the percentage of long positions in Treasuries ticked up to the highest since 2016. Hedge funds and other large speculators have been paring back their short bets for weeks, according to Commodity Futures Trading Commission data.
Simply put, the market feels balanced around 3 percent, and I'd imagine Powell is pleased by that. As for the Dec. 19 Fed decision, there still doesn't seem to be an obvious catalyst for policy makers to drastically alter their projections for the longer-term neutral rate. On the one hand, the Fed's preferred inflation gauge remained steady at about 2 percent in October, Commerce Department data showed Thursday. On the other, U.S. pending home sales fell 2.6 percent last month compared with September, missing estimates for a 0.5 percent increase. You could certainly argue that the current dot plot is too aggressive in the short term, though, with the median calling for rates to reach a restrictive level (3.125 percent) by the end of 2019. Two-year yields, currently at 2.8 percent, would agree with that.
The bond market seems to have correctly sussed out the Fed's commitment to raising rates, based solely on parsing speeches for clues. I admit, I thought traders were only hearing what they wanted to hear. Now, after multiple efforts by Powell and Vice Chairman Richard Clarida to clarify their outlooks, current yield levels seem about right. Don't expect many more fireworks in Treasuries until Dec. 19, when policy makers have the opportunity to truly reveal their intentions.
This column does not necessarily reflect the opinion of the editorial board or Bloomberg LP and its owners.
Brian Chappatta is a Bloomberg Opinion columnist covering debt markets. He previously covered bonds for Bloomberg News. He is also a CFA charterholder.