Mob Prosecutor Turns His Sights on Opioid Executive
(Bloomberg) -- When mob prosecutor Fred Wyshak suddenly appeared in court a few months before the trial of seven former Insys Therapeutics Inc. executives accused of bribing doctors to boost sales of an opioid drug, two of them quickly flipped and pleaded guilty.
Six years ago, Wyshak brought down infamous Boston crime boss James "Whitey" Bulger in a celebrated racketeering trial. Now he's the government's hammer in another racketeering case, helping persuade two ex-senior executives to turn on company founder John Kapoor and four others and testify against them.
Wyshak, a 65-year-old Boston native, was likely brought into the Insys case because of his skill in twisting the screws on criminal enterprises, lawyers say.
"Adding Fred Wyshak provided that team with immediate credibility, credibility with the judge and defense counsel,'' said David Schumacher, a partner at Hooper, Lundy & Bookman PC and a former health-care prosecutor in Boston. "He's probably been instrumental in leveraging some of the pleas.''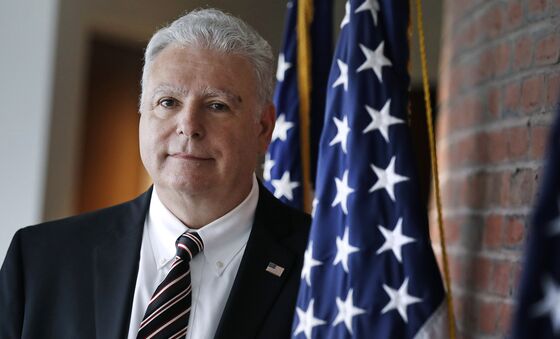 Wyshak is facing off against Beth Wilkinson, who put away narco terrorists and white supremacists as a federal prosecutor and is defending Kapoor. She has represented blue-chip corporate clients including Microsoft Corp. and Major League Baseball in antitrust cases and Pfizer Inc. in a lawsuit over its Zoloft antidepressant drug.
Former Chief Executive Officer Michael Babich and ex-sales chief Alec Burlakoff, who are expected to testify as early as next week, are typical of the cooperators prosecutors use in conspiracy cases; in mob parlance, they're "rats."
Prosecutors told jurors in opening statements that the two executives will say that Kapoor ordered them to transform a program aimed at legally promoting the company's Subsys painkiller into a funnel to bribe doctors to write more and higher-dosage prescriptions.
The fentanyl-based painkiller is 100 times stronger than morphine and highly addictive. Regulators approved it only for "breakthrough'' cancer pain, but Insys sales reps used tactics, including lap dances, to woo doctors to prescribe it for arthritis, depression and back pain.
The U.S. Attorney's Office in Boston, which has a special unit for health-care fraud cases, has probed Insys's handling of the painkiller for more than five years. Wyshak joined prosecutors Nathaniel Yeager, chief of the unit, and David Lazarus on the Insys case after he put away mobster "Cadillac" Frank Salemme last year. Salemme got life for the 1993 murder of a federal witness -- a South Boston nightclub owner.
In the Insys case, Wyshak and his colleagues are using some of the same tactics they wielded against Bulger and Salemme. They brought the first indictments in 2015 against lower-level employees and health-care providers who allegedly took bribes, and then pressured them to flip on others in return for lighter sentences.
The case has echoes of mob trials past, including secret recordings by once-loyal foot soldiers, underlings who claim the boss demanded they make him richer, and a stripper-turned-sales-manager who is accused of enticing corrupt doctors to write prescriptions.
The grey-haired Wyshak tackled organized crime in New Jersey and Brooklyn, New York, before heading to Boston in 1989. His willingness to push a loansharking and gambling probe of Bulger -- brother of then-State Senate president William Bulger -- is credited with lifting the lid on a web of corruption among the FBI and police. Wyshak was portrayed as a bald, no-nonsense prosecutor in "Black Mass,'' a 2015 movie featuring Johnny Depp as the boss.
Bulger spent 16 years on the run before he was captured and sentenced to two life sentences for 11 murders. He was found dead in October, beaten unrecognizable, soon after being transferred from Florida to a prison in West Virginia. He was 89.
Wyshak has his critics in Boston, including some who, unwilling to speak publicly for fear of alienating him, said he won't bend in cases of human frailty and overcharges defendants in hopes they'll fold.
Steven Boozang, who represented Salemme, called Wyshak a sharp-elbowed prosecutor who tries to knock defense lawyers off their game. "I don't think they really dislike him personally,'' Boozang said of his colleagues. "It's just that Fred might rub you the wrong way because he's such a tough advocate.''
That came across early in the Kapoor trial, as Wyshak interrupted Wilkinson twice during her opening statement, breaking what some call an unwritten courtroom rule.
"That's not the sort of thing a prosecutor does lightly, and he's got the chops to do that and throw his weight around,'' Schumacher said.
The judge has told the teams of lawyers not to comment.
Wyshak and Wilkinson crossed swords over her refusal to provide copies of slides used in her opening. He said he made his slides available and that it was "ridiculous'' Wilkinson wouldn't do the same. "She's worried they will show she'' misled jurors, he told U.S. District Judge Allison Burroughs.
"Here we go again,'' Wilkinson shot back. "Next, he'll accuse me of whining.'' For her part, Burroughs said Wilkinson could keep her opening slides to herself. "There's been a fair amount of ridiculousness on both sides,'' the judge said.
Wilkinson is a formidable presence in her own right. She put Oklahoma City bomber Timothy McVeigh on death row in 1997 and won the conviction three years earlier of a narco terrorist who bombed a civilian airliner in Colombia.
Last year, she was hired by then-U.S. Supreme Court nominee Brett Kavanaugh to handle accusations he sexually assaulted a woman in high school. She helped exonerate former U.S. Representative Harold Ford Jr. of Tennessee, who was accused of sexual misconduct while working as a Morgan Stanley banker.
Brian T. Kelly, a former prosecutor who was Wyshak's partner for two decades as they tackled Bulger's mob, is also bolstering the defense team. Kelly rushed to Arizona to represent Kapoor when FBI agents arrested the former billionaire at dawn in 2017 at his Phoenix mansion.
Wyshak's record in a slew of cases under the powerful Racketeering Influenced and Corrupt Organizations, or RICO, Act drew some chuckles last week.
As he was trying to take notes during a break, Wyshak grew frustrated with the poor quality of his pen.
"My next investigation,'' he said, as he shook the pen in the air, "is going to be on the government employees who supply these pens.''
Steve Tyrrell, a lawyer for Richard Simon, one of Kapoor's co-defendants, quipped, "Will that be a RICO, too?''