White-Collar America Anxiously Awaits the Memo on Coronavirus
(Bloomberg) -- Last week, back when companies still held conferences and events, Biogen Inc. hosted about 175 people for a strategic management meeting at the Boston Marriott Long Wharf, just next to tourist attraction Faneuil Hall. Soon afterward, people started feeling sick, and some tested positive for the flu. By Thursday, the news was worse: Three attendees had Covid-19.

What followed was a version of the same story that's been playing out in corporate America all week, from Seattle to New York. Everyone who attended the conference was asked to work from home for two weeks, whether or not they had symptoms. The biotech company restricted business travel through the end of March and told all employees to stay home and contact a doctor if they felt unwell.

As the coronavirus case count climbed in the U.S. and it became clear that extraordinary action would be required to contain its spread, water coolers and Slack rooms around the country have been filled with speculation about when workers would receive a directive from human resources in their inbox.
Twitter Inc., Microsoft Corp. and Amazon.com Inc. were among companies that instructed thousands of employees to work from home if they could. The HR missives were dissected as if they were sacred texts: What exactly is "essential" travel? Do I have to use sick days if I'm at risk and can't work from home? How exactly am I supposed to avoid touching my face?
The virus moved so quickly and unpredictably that it forced companies to make hard choices about communications with employees. Speak too soon and risk causing unnecessary panic, disrupting operations and hurting the business. Wait too long to place restrictions and workers might be exposed. Opt to let people work from home if they can, and those who can't could feel slighted.
For some, like the Biogen employees who got sick, a policy change came a tad too late. At Toyota of Kirkland, outside Seattle, an employee tested positive for the coronavirus on March 3. A day later, another person who said he worked at the car dealership posted anonymously on Reddit that he was concerned because the business hadn't closed and employees weren't being told anything. The next day, Toyota of Kirkland said it would shutter until next week for a deep cleaning. "The health and safety of our employees, customers and community is our top priority," the company said in a statement.

Cubicle occupants may have anxiety, but at least most of them can log on from a computer at home and get things done. A third of Americans are in jobs where that's impossible, such as assembly line workers, restaurant servers and retail employees. Keeping the workplace open and running is imperative for these people, many of whom have no guarantee they'll get paid if the doors are closed.
Workers at Fiat Chrysler Automobiles NV's Indiana plants have expressed concern about contractors coming in and out of the factory who have traveled overseas, said Weed Widup, president of the United Auto Workers Local 1302 in Kokomo, Indiana, which represents engineers and office personnel. FCA said in a statement that hosting suppliers and other visitors in its facilities is part of everyday business and the company encourages everyone to follow public health guidelines.

Costco Wholesale Corp. has its headquarters in Issaquah, Washington, the state that's been hardest hit by the virus so far. Panic-buying across the nation has made this an enormously busy time for the retailer, and complicated its decision on what to tell employees.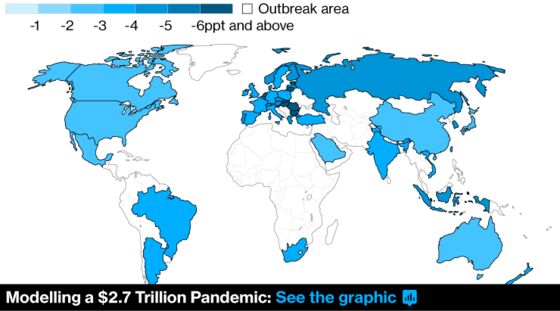 It's hard to tell white-collar workers they can log on from home when cashiers and stockers are hustling on the front lines. Some locations in the U.S. have seen sales volumes surge 30% to 40% this week, with a Seattle location exceeding $1 million in sales a day, according to a person familiar with the matter.
"Some local companies are reportedly allowing employees to work from home. But of course, Costco's business is a retail business, and a great number of Costco employees locally and across the country cannot work from home," the company told employees in a memo this week. "We know some home office employees would like to work remotely, but our jobs here are to support our retail business, and we're not prepared at this point to have corporate employees work from home. This decision may be unpopular with some, but we consider it a matter of equity and fairness."
The company said people who were sick, or those with a higher risk of infection or a pregnancy, could stay home and "feel free to use sick time or vacation time." But one employee, who asked not to be identified, worried about whether healthy workers could inadvertently spread the virus to family members by continuing to go to work.

The decisions companies make on how to handle the coronavirus have ramifications far beyond their own employee bases.
When Gap Inc. closed its office in lower Manhattan on Friday after a confirmed case in an employee who works in the building, coffee and halal cart vendor Mohammed Abdrabou worried about what would happen if workers there and other nearby towers stopped coming into the office.

"I would get no business," he said. "That would be very bad. I have a wife, kids, rent."