Where Holmes Prosecutors Saw Deception, She Sees Innovation
(Bloomberg) -- Theranos Inc. founder Elizabeth Holmes took on some of the government's most damning allegations against her to explain that forging documents and concealing the use of blood-testing machines made by other companies were legitimate business activities.
Testifying for a third day in her criminal fraud trial, the 37-year-old entrepreneur parried prosecutors' claims that she deceived investors and business partners. She sought to show instead that she was promoting and protecting her fast-growing company.
Holmes admitted she didn't have permission when she applied logos from two pharmaceutical giants on reports to prospective investors that conveyed support by the drug companies for her startup. "I wish I could have done it differently," she told jurors. But she said it was intended to reflect the companies' involvement in validating her technology.
Investors have testified that the purported endorsements of pharmaceutical companies were important in their decisions to buy Theranos shares.
Holmes also offered a benign justification for not telling Walgreens that many of the machines used for Theranos' commercial roll-out in the drug-store chain were actually made by large, established manufacturers and were modified by Theranos to process blood samples for certain tests.
"This was an invention that we understood from our counsel we had to protect as a trade secret," she said.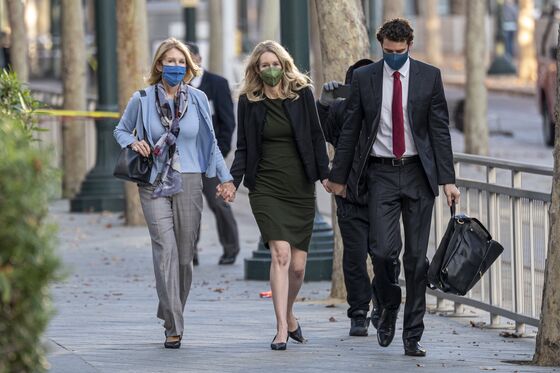 Had Theranos disclosed it, Holmes said, the companies that made the machines that Theranos was modifying, such as Siemens AG, could steal the idea. "The advice was to keep it confidential so Theranos would have the chance to profit off that invention," she testified.
She said that when the topic was discussed by her board in 2013, one director, former U.S. Senator Sam Nunn, spoke from his experience serving on the board of the Coca-Cola Co. to the critical importance of protecting the soda maker's formula as a trade secret. In the way that Holmes recast events, she wasn't hiding Theranos' use of third-party machines but trying to protect her company's proprietary modifications.
The partnership with Walgreens eventually fell apart.
Holmes first took the witness stand late Friday after the government presented 10 weeks of evidence and testimony to make its case that Theranos was a massive fraud before it collapsed in 2018. 
Her central defense, as laid out by her lawyer in September opening arguments to the jury, is that she tried her hardest for 15 years to make the company succeed, but "coming up short is not a crime."
Late in Tuesday's testimony, Holmes turned to the company's finances -- another area where she's accused of misleading investors -- and faulted her second-in-command and former boyfriend Ramesh "Sunny" Balwani for inaccurate revenue projections.
Holmes suggested that financial modeling developed by Balwani, who was the company's president, was to blame for discrepancies in 2014 and 2015 revenue figures that were shown to the board. 
The jury previously has heard that the gap between projected and actual revenue for those years was immense. Theranos forecast revenue of $140 million in 2014, and almost $1 billion for 2015. Holmes's top financial officer testified that Theranos posted just $150,000 in revenue in 2014. Evidence at trial shows it was even less in 2015.
Holmes's testimony is set to resume Monday. Balwani was also charged, but he faces a separate trial starting next year. He has pleaded not guilty.