When the Value Share Rotation Does Come, Head to Europe, Japan
(Bloomberg) -- If Thursday's slump in high-flying growth stocks pushes investors to prepare for a long-heralded value share rotation -- they will find Southern European and Japanese stocks look best placed to benefit.
That's based on the size of the cheap stock cohort in each market, according to data compiled by Bloomberg from MSCI Inc. indexes. The market capitalization of value shares is just under 50% of the MSCI Europe Index -- with the biggest contributors on a country basis Spain and Italy -- and about 48% of the MSCI Japan. They make up just 45% of the U.S. benchmark and 44% of the emerging market one.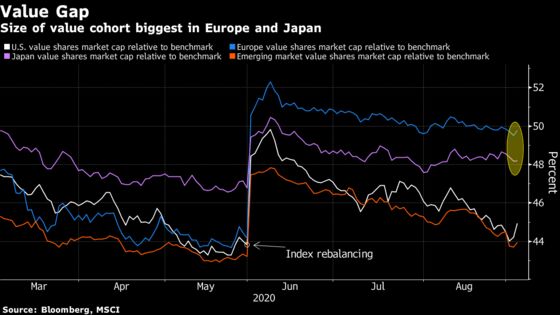 U.S. stocks sold off hard on Thursday as investors took profits in red-hot technology stocks, with the move spilling into global markets. Cheaper stocks fared better though with the MSCI World Value Index down 1.5% compared with a 3.8% slide in the growth counterpart.
Over the last few weeks, amid the seemingly relentless surge in growth stocks, speculation has been building that beleaguered value shares may be due for a rotation-driven rebound as the Federal Reserve signaled a shift to a more relaxed approach on inflation. The global value gauge remains down 14% this year, versus to a 20% climb for the growth index.
Time May Be Ripe for Attitude Change to Maligned EM Value Stocks
Within Europe, it's the countries along the Mediterranean that stand out. Shares cheap relative to their fundamentals make up 78% of the Italian benchmark and 69% of the Spanish, according to data compiled by Bloomberg. That's because of the large size of both the financials and utilities sectors in both markets.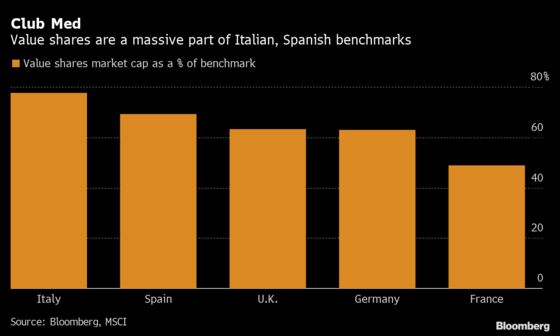 The equivalent figures for the U.K. and Germany are still high, at around 63% of both benchmarks. France, with fewer cheaper banks and more pricey consumer names such as its luxury goods giants, has the lowest proportion of value shares among the bigger European markets.