When South Africa's MPC Is Split 50/50, the Hawks Tend to Win
(Bloomberg) -- South Africa's central bank tends to be hawkish.
In the last three years, the Monetary Policy Committee was split down the middle only twice. In March 2016, three members voted for higher interest rates and three favored an unchanged stance. The panel increased its key rate by 25 basis points, its last upward movement.
In September 2017, the MPC was again split, with half of the members voting to hold the rate and half preferring looser policy. The outcome was an unchanged repurchase rate, the more hawkish one of the two options.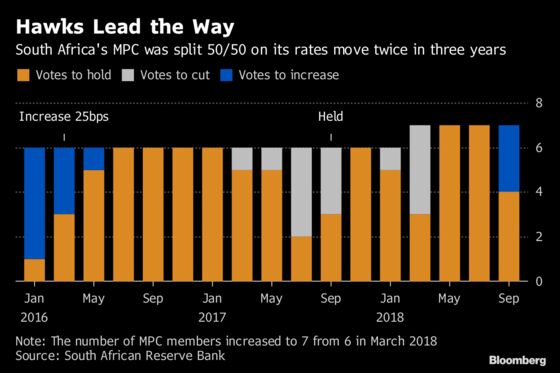 While the MPC had seven members for its last four meetings, the retirement of Brian Kahn at the end of September brought the panel back down to six. That raises the possibility of another 50/50 split this week as the central bank seeks to balance steering inflation to 4.5 percent with the needs of an economy that fell into recession in the second quarter.
The committee will announce its decision on borrowing costs Thursday. Of the 21 economists in a Bloomberg survey 11 forecast the repurchase rate will be increased to 6.75 percent and the rest predict the rate will stay at 6.5 percent.