Wheat's Drought Battle and Surging Demand: Why Prices Are Flying
(Bloomberg) -- From Russian farmers literally steamrolling seeds into parched fields to China's rising demand, the reasons for wheat's rally to a six-year high keep growing.
With farmers in the U.S. to Black Sea battling drought, the poor plantings start is raising worries that the market could further tighten. That's happening at a time when importers are building reserves to safeguard supplies, prompting fund managers to turn more bullish.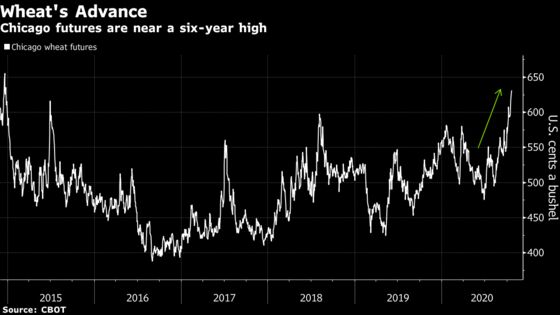 Here are more charts on the drivers and impact of wheat's rally:
Shrinking Export Supplies
While global stockpiles are at a record high, inventories in major exporters are near a six-year low, partly because of strong imports. In Russia -- which is set to reclaim its ranking as the top shipper -- sales are accelerating on robust demand ahead of a planned export quota next year. That's putting strain on the country's railways and causing ships to wait longer for cargoes.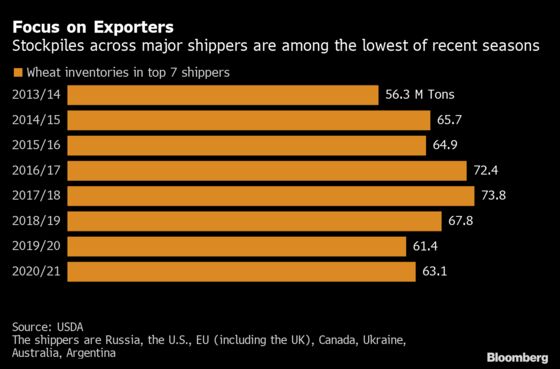 China is set to buy the most wheat in a quarter century and has already booked large amounts from the U.S. and France. Demand is also emerging in unusual places like Pakistan, which is poised to become a net importer. Many nations want to bolster reserves to protect against any coronavirus-related supply disruptions.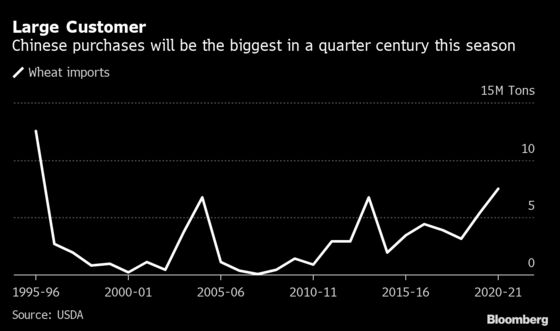 While Russian winter-grain plantings are set to reach a record, dryness is fueling concerns about how much of the crop will emerge and develop enough before freezing weather sets in, said Alexander Korbut, vice president at the Russian Grain Union. From Aug. 1 to mid-October, rainfall was about a 10th of the 30-year average in Rostov-on-Don and Stavropol -- cities in a key growing region -- according to forecaster Maxar.
Conditions are so bad that some farmers are using steamrollers to press in seeds to stop them being blown away on dry ground and help them to develop once rains arrive.
"When soil moisture is plenty, this is often skipped to cut costs," said Sergey Skipa, a farmer in Russia's Voronezh region. "Now it's more essential."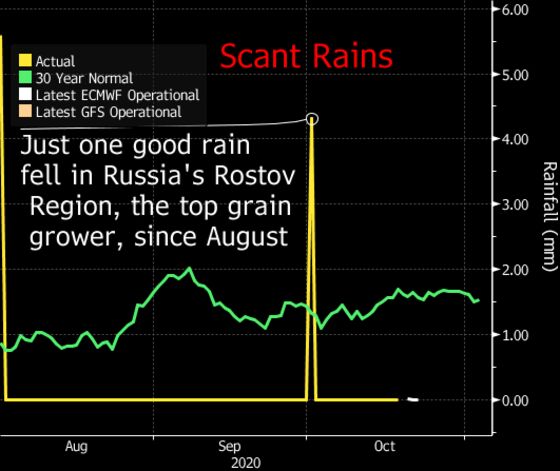 In the U.S., the winter-wheat area exposed to drought has reached a season-high 41%. That means plantings may miss expectations, said Terry Reilly, an analyst at Futures International in Chicago. Still, there's plenty of time for conditions to change.
Money managers are the most bullish on wheat in seven months, partly as funds pile into agricultural commodities, lured by a weaker dollar and expectations that inflation could pick up.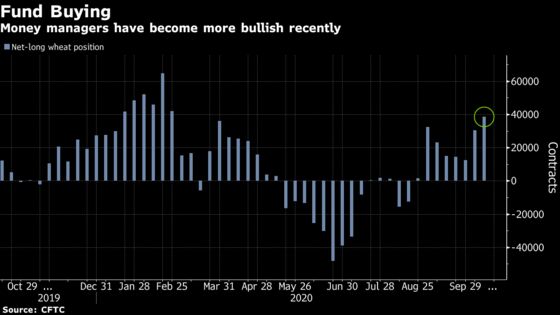 "Sooner or later the funds will return to the sale, but for the moment their buying momentum remains intact," consultant Agritel said.
Rising grain costs are already feeding through to pricier meals, with a United Nations' gauge of food prices at a seven-month high. That could further hurt economies battered by the pandemic and put more pressure on nations suffering from hunger crises.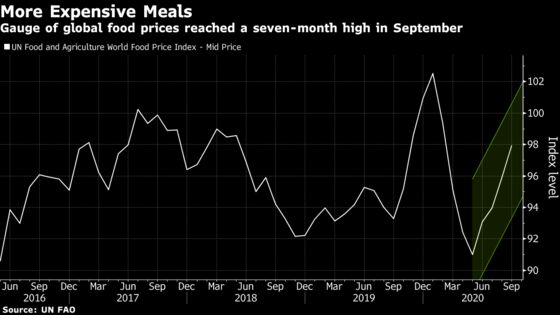 Read More: Rally in Food Prices Could Keep Going With Tighter Crop Supplies