Unsung Metrics Get Star Turn With Looming Earnings Already Stale
(Bloomberg) -- Normally, when a company reports results, a predictable ritual ensues. Investors locate the relevant earnings per share, and compare it to the consensus estimate. Then they dial in to the conference call and listen for the next quarter guidance.
But the old ways will be of little use when banks kick off the reporting season mid-month. For a second straight quarter, investment pros everywhere are concocting homegrown methodologies and bespoke formulas to help them gauge a company's health in the age of the coronavirus. It might involve calculating adjusted run rates for restaurants without indoor diners. Or scrutinizing Jamie Dimon's words for clues on the buying habits of American shoppers.
For the record, corporate profits are estimated to have declined by some 44% in the second quarter, the biggest drop since the financial crisis. That the three months companies will be accounting for included a near-total economic shutdown, millions joining the unemployment rolls, a spike in bankruptcies and a gradual reopening marred by an upswing in new virus cases only clouds the picture.
"The numbers are going to look just as bad in many sectors as they did last quarter and obviously the earnings forecast is pointing that way," said Olivia Engel, chief investment officer of State Street Global Advisors' active quantitative equity team, which oversees about $35 billion.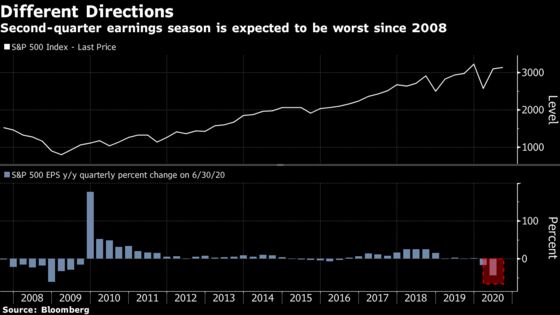 Following are the first-hand accounts of how investors are approaching the coming season.
Kim Forrest has covered and owned shares of Urban Outfitters Inc. practically forever. For a long time, the clothing retailer had little debt on its balance sheet, which is why she liked it. But when the coronavirus hit, the company borrowed more than $200 million to help it weather the pandemic. Now Forrest, who is chief investment officer of Bokeh Capital Partners, in Pittsburgh, wants to know what its management's plans are for reducing that load -- and how quickly they can do it.
Urban Outfitters' tale is emblematic of the wider trends Forrest will be clued into. For instance, did companies take out a PPP or other type of loan? She'll be looking to see how much cash they burned and, more importantly, what kind of demand they're seeing now that the pandemic's been wreaking havoc for a few months.
"It's all that kind of stuff -- what they're doing to survive another day and how soon they're going to start not having to depend on those measures," said Forrest. Many firms might give third-quarter guidance, though she predicts few will venture past that. But, she says, she'll be taking each report on a case-by-case basis since consumer-oriented companies might see more forgiveness from the investment community than will the likes of Microsoft Corp., whose cloud-services product is essential for many businesses. "So I think you have a sliding scale," she said.
When companies reported first-quarter earnings, TIAA Bank's Chris Gaffney looked for signs of what tools they might use to survive the downturn. When they report this time around, he'll be obsessing over measures like cash-on-hand because they may show him how deep into their reserves they had to dig to make it through the quarter.
"That's still going to be important, especially if we face a second wave -- they're going to have to have something there to protect them still," said the bank's president of world markets.
Gary Bradshaw needed a new shower-head this past weekend -- his was leaking. So he visited a Home Depot in the Dallas region. During the same trip, he stopped at a Walmart to pick up coleslaw and salad toppings and fruit. Besides seeing an uptick in mask-wearing patrons, he noticed something else: both stores were "extremely busy," says the portfolio manager at Hodges Capital Management.
When these retailers, along with Costco, Target and Lowe's, start to report earnings, Bradshaw will be looking for an improvement in same-store sales among those that managed not to close their doors during the shutdown. "Those essential retail businesses that have remained open, they've done a very good job running their business in the pandemic environment and they captured market share from other players that have been closed," he said by phone.
Bradshaw says he'll apply the same test for restaurant chains like Darden Restaurants Inc., which operates the Olive Garden and Seasons 52 chains, among others. He also wants to see improving trends for take-out places like Domino's Pizza, which has robust online-ordering and an app system in place. But there's a caveat -- many restaurants are accepting a reduced number of customers due to the pandemic. For those companies, investors and the market might be more forgiving, he said.
The way Yousef Abbasi sees it, the second-quarter earnings season is going to be "a little bit crazy," with companies in the S&P 500 likely to see their profits contract more than 40%. Still, the global market strategist at StoneX says no one is actually going to go ahead and extrapolate a run rate from the worst quarter since the financial crisis. Abbasi himself says he's going to use metrics in one industry to gain insight into others.
"From this earnings season, can we better assess how we'll recover and do we understand the trajectory for earnings?," Abbasi said by phone. "You're going to be looking out for management guidance. We want to know how Jamie Dimon feels about the credit quality of his consumers. We want to understand what he's seeing in terms of forbearance or the ultimate impact. All of that is very much still in play."