What Top Shareholders Said in Run Up to Credit Suisse CEO Ouster
(Bloomberg) -- The shock ouster of Credit Suisse Group AG's Chief Executive Officer Tidjane Thiam puts the firm at odds with major U.S. and U.K. investors who had publicly backed the CEO in a series of increasingly strident statements this week.
Chairman Urs Rohner has won the battle in the board room -- presumably with the consent of other top shareholders -- but now needs to placate a string of money managers who demanded that Thiam remain. Credit Suisse was already struggling to draw a line under last year's spying scandal that shook a Zurich financial community that values discretion.
Here's an overview of what some of the Swiss bank's biggest shareholders had said in recent days after Bloomberg News had first reported that Rohner was drawing up a list of potential successors a week ago, a report which Rohner denied.
Harris Associates's David Herro
David Herro, deputy chairman of Harris Associates, may well be Thiam's staunchest defender. Herro, who says his firm holds 8.4% of Credit Suisse, said last week that he saw "no reason to change a successful CEO as he has not been implicated in any wrongdoing." He later told Bloomberg TV that there's been an orchestrated attempt to "pin something" on Thiam in recent months and suggested that the campaign may be motivated by competitors' envy or the fact that Thiam is the first black CEO at the bank.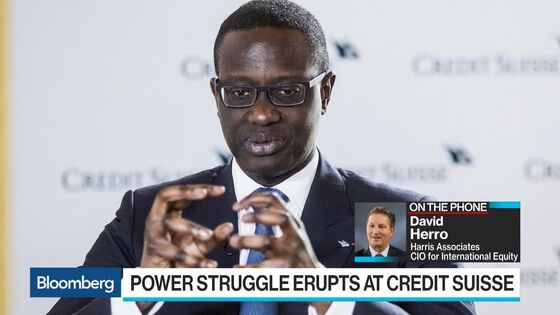 He said if the bank doesn't "act accordingly" he would look for other ways to remove Rohner.
Silchester International Investors, which says it owns a 3.3% stake in the Swiss bank, also took Thiam's side, issuing a rare press release in which it called for Rohner to leave before the end of his term if he doesn't support the CEO. Silchester said it was not aware of any reason the CEO shouldn't have the chairman's full support. The firm is one of Credit Suisse's 10 largest investors, according to data compiled by Bloomberg.
It also said that Rohner should consider resigning earlier than 2021 if he felt unable to support Thiam.
Eminence Capital said it owns 16 million shares or almost 1% of Credit Suisse's outstanding stock and controls another 30 million shares through long-dated call options. In a letter to Rohner and the board, it said it was increasingly disappointed at the board's "utter lack of support for its CEO, and in the process become disconnected with its management team to the detriment of all shareholders." The investor called on it to publicly reaffirm its support for Thiam and said other large investors see things similarly.
It probably went the furthest of the shareholders: "If the Board decides to pursue a personal agenda with respect to the chief executive rather than act as thoughtful fiduciaries, we will hold Chairman Rohner and the rest of the Board accountable for behavior that we believe is value destructive for shareholders. We will not hesitate to pursue legal and or governance actions to protect shareholder interests."
Their efforts proved unsuccessful. Rohner's backers saw the high-profile demands as an unseemly gambit, according to a person familiar with the matter. Meanwhile, the chairman lined up support behind the scenes from other shareholders for the board, including Qatar's sovereign wealth fund, the person said. Qatar Investment Authority held a 5.2% stake at the end of 2018, the most recent data available, according to the figures compiled by Bloomberg.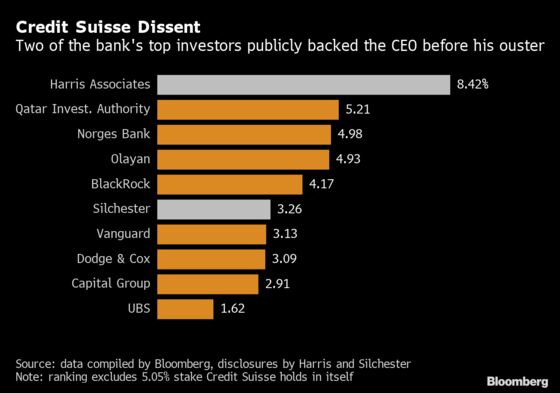 Thiam, who was hired by Rohner in 2015, has won shareholder support for stabilizing the bank by pivoting away from volatile trading operations to its wealth management arm. But while costs have been slashed and the balance sheet strengthened, Credit Suisse stock has lost almost half its value since he took over. He will step down after presenting the bank's fourth-quarter earnings next Thursday.