What to Watch in European Credit Markets This Week
(Bloomberg) -- Good morning. Here's what we will be watching this week:
The pre-Christmas slowdown has arrived, with almost 70 percent of respondents in Bloomberg's weekly issuance survey suggesting European volumes are unlikely to rise above 5 billion euros ($5.7 billion) this week. While wider uncertainty has been dampening issuance, during the same week last year borrowers sold just 2.4 billion euros, according to data compiled by Bloomberg. With year-to-date issuance almost 11 percent behind where it was this time last year, this marks the last opportunity to catch up.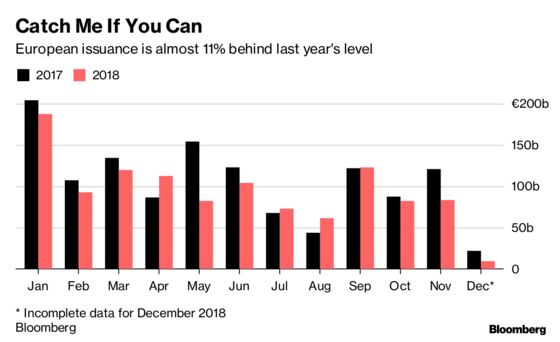 Conflicting reports suggest either U.K. Prime Minister Theresa May will press on with a parliamentary vote on her EU exit plan on Tuesday evening, even though most suggest it will be rejected, or will seek to postpone it. Either way, it is likely to have a dampening effect on sterling credit, particularly U.K. banks, which are priced "in anticipation of a 'no'-vote" but they "stay risky" according to analysts at Commerzbank AG. "By now, valuations clearly anticipate a much more unfavorable outcome than just a month ago." To add to the mix, this morning a European court ruled the U.K. can revoke Brexit without the approval of other European nations.
With just three weeks of the European Central Bank's quantitative easing program left, the bank's meeting on Thursday will generate headlines. President Mario Draghi is set to confirm the conclusion of net asset purchases by the end of the month. The Commerzbank analysts also expect some insight into the bank's plan for reinvestments, such as guidance on length, program or country allocations and purchase durations.
One of the other big event risks is the long-running dispute between the European Union and Italy's government. This may escalate further this week, as the results of a cost analysis of its 2019 budget proposal come to light. Brexit, Italy and worsening relations between the U.S. and China mean macro event risk will weigh on markets next year, wrote Suki Mann, founder of CreditMarketDaily.com, in a note. "Equities might drop some more next year, credit returns could be negative again and rates might fall even further," he said. Rabobank analysts added European Parliament elections in May to the list of potential event risks for 2019, noting that though there are many potential hurdles, "not all these event risks have to materialize".