What to Watch in European Credit Markets This Week
(Bloomberg) -- Good morning. Here's what we will be watching this week:
What the European Central Bank gives, it can also take away. Credit spreads of European investment-grade credit have widened out to levels last seen in March 2016, before the ECB announced plans to buy corporate bonds. That program, which has accumulated some $200 billion of securities and lowered borrowing costs to unprecedented levels, is now set to wind down. This removes a key technical support for a market already pretty battered from negative newsflow.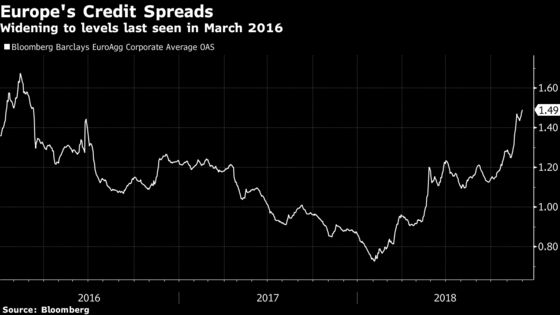 Issuance of new bonds will slow sometime this month as holiday season begins. But not quite yet. Positive sentiment after the G20 trade talks has sent markets higher today, and that's proved the right backdrop for SAP SE to bring a euro bond backing its $8 billion acquisition of Qualtrics International Inc. The German firm raised a 7 billion-euro ($7.9 billion) loan to fund the purchase, it said last month.
Alongside wider spreads are wider yield curves. Volkswagen AG was among the first to recognize the changed landscape and paid up for its big bond sale last month. That helped push the yields of all its bonds wider. And when UniCredit SpA followed HSBC Holdings Plc to pay more for its bail-in bonds that then repriced curves of the asset class. Many peoples' view is such higher pricing is a product of credit catching up with other markets, notably equities, and isn't just an end-of-year moment.
With positive sentiment in the markets today and U.S. nonfarms on Friday, it maybe that whatever business is going to get done will be in the first half of the week.
See also: Here's What to Watch in European High-Yield Bonds This Week