What to Watch in European Credit Markets This Week
(Bloomberg) -- Good morning. Here's what we will be watching this week:
The drama playing out at Westminster will likely shape market tone this week. Today, Theresa May is due to defend her Brexit deal in front of business. More cabinet resignations could signal further weakness, and there remains the possibility of a no confidence vote. U.K. banks in particular took a hit last week as rumors swirled. Such uncertainty is likely to weigh against risk taking in the markets, and constrain the flow of bond sales.
Euro credit has generally shrugged off Brexit turbulence so far, but with five weeks to go before the festive period and Thanksgiving due to curb issuance this week, some borrowers may choose to pull up the shutters for the rest of the year. Economic data this week, which includes closely-watched purchasing managers' indexes on Friday, will be monitored closely. Respondents to our weekly issuance survey suggest volumes are unlikely to exceed 20 billion euros ($22.9 billion).
... but jumbo is still where it's at
U.S. surgical equipment maker Stryker Corp may be in the market with a significant-sized bond sale this week, just days after Takeda Pharmaceutical Co Ltd and Volkswagen International Finance NV became two of the year's biggest issuers, though at a price. If the deal goes ahead it will follow a spate of euro-denominated sales by U.S.-based borrowers: October was the first month since July in which so-called 'reverse Yankees' racked up more than 5 billion euros of borrowing. The other obvious prospect for this week is a sustainability bond from Co-Operative Group Ltd.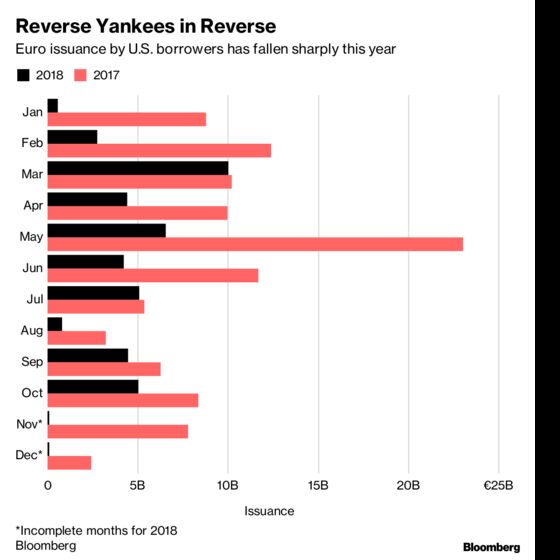 Earnings season for Europe's high-yield issuers helped generate some negative surprises, leading to a string of sudden drops in bond prices. A sense of fragility and nervousness across the European and U.S. credit markets seems to be triggering these crashes. Investors are selling out of names fast if they suspect worse is to come. Vallourec SA bond prices dropped on Friday, and today it seems PizzaExpress Ltd bonds are in focus.