What to Watch in European Credit Markets This Week
(Bloomberg) -- Good morning. Here's what we will be watching this week:
Opportunistic issuance
The primary market for investment-grade bonds is under scrutiny after three pulled deals last week. There won't be a big rush of deals amid company earnings and school holidays in the U.K and investors expect less than 20 billion euros ($23 billion) of high-grade issuance this week, according to a Bloomberg survey. The bulk of deal flow may be drive-by sales from better-known names.
Last week showed us investor appetite still exists for larger offerings, particularly if they are launched at the right price. Smaller, less well-known issuers may continue having trouble getting deals away. "Altogether it means that we're extremely unlikely going to see any confidence return to the markets in the short term," wrote Suki Mann of CreditMarketDaily.com in an emailed note.
Barclays Bank Plc, Deutsche Bank AG, Lloyds Bank Plc, UBS AG and Royal Bank of Scotland Group Plc are among those preparing to report earnings. In the U.S., the biggest banks have largely eschewed opportunities to sell bonds having largely pre-funded ahead of the 2019 start of new capital regulations. Some European banks, particularly in Southern Europe, still have debt to raise to get their balance sheets in line with regulatory requirements.
Among corporates it's not proving to be a great earnings season so far, and there's plenty more names reporting this week. Debenhams Plc earnings on Thursday will be watched closely given a report of potential store cuts.
A downgrade can be good news if the market feared worse. Italy's one-notch cut from Moody's Investors Service late Friday, with the kicker of a stable outlook, has cheered markets today, with Italian 10-year bond yields dropping 16 basis points and credit default swaps tightening in financials as well as credit indexes.
S&P is due to update its outlook on the country later this week. The market has priced in a "decent probability" of a one-notch downgrade, which would allow Italy to hold onto an investment-grade rating. On Friday strategist Jaime Costero said if Italy's rating is cut by two notches it could trigger a 350 to 400 basis point widening of spreads between Italian and German 10-year yields.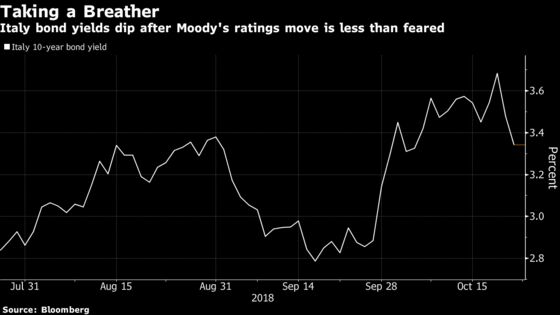 Spain may also come into focus, analysts at Commerzbank AG wrote in a client note Monday. A mortgage tax ruling on Thursday has caused the cost of insuring Spanish bank debt to creep up, meaning "dangers are now twofold: with contagion from Italy not off the table, a likely bumpy ride to a budget is receiving increasing attention and presents itself as the next driver of spreads via wider SPGBs (Spanish 10-year government bonds)," they said.
The European Central Bank's monetary policy committee's next rate decision is on Thursday. Macro risks mean it may set a more dovish tone while any comments on bond purchasing will be of interest, particularly this month as purchases are being slashed.
Meanwhile at the Bank of England Mark Carney noted rising concerns about the growth of leveraged-loan lending in a speech on Friday. In comments about lessons from the financial crisis a decade ago, he compared leveraged loans with subprime lending in the run-up to the crisis. He did note "important differences" between the two, as many market participants would underline, but even they would agree with his comments that "the leveraged loan market shows few signs of slowing".