What Monopoly? South African Billionaire Backs White Wealth
(Bloomberg) -- Johann Rupert, South Africa's second-richest man with a $6.3 billion fortune, spoke out to defend the stranglehold white people still have over the economy more than two decades after the end of apartheid.
In a combative interview on Johannesburg-based radio station Power FM, the 68-year-old chairman of the maker of Cartier watches dismissed the idea of "white monopoly capital" -- a local term referring to the economy being dominated by white people who make up less than 10 percent of the population.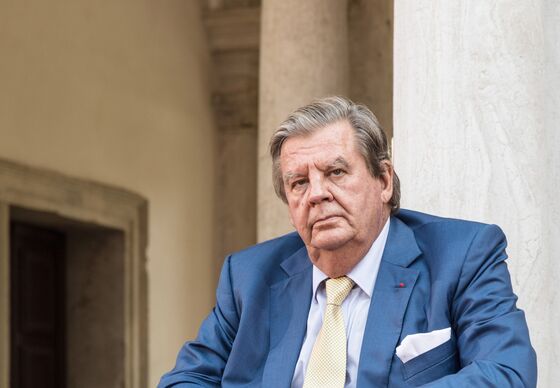 "What does white monopoly capital mean?" Rupert said, after interviewer Given Mkhari introduced him as the face of the concept. "Yes I'm white, or I mean a white person. Show me a monopoly we have ever had, show me one monopoly I have ever had, just one please."
He went on to name state-owned companies such as power utility Eskom Holdings SOC Ltd. that enjoy genuine monopolies. Meanwhile, he said his own companies -- such as Swiss luxury goods maker Cie Financiere Richemont and Stellenbosch, South Africa-based Remgro Ltd. -- pay dividends and taxes in South Africa and create jobs in the country, where more than one in four people in the labor force are unemployed.
Racial inequality has long been a sensitive issue in South Africa, and Rupert's comments predictably went down badly on social media. The opposition Economic Freedom Fighters, which argues for radical policies such as the nationalization of banks and all land, called him a "selfish racist white capitalist." In his interview, Rupert similarly dismissed the EFF, mocking the red berets worn by party members.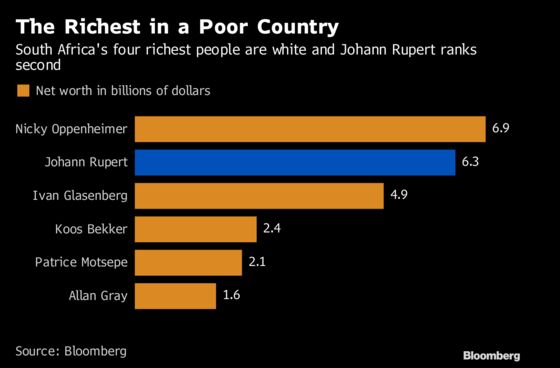 The top four richest South Africans are white men, according to the Bloomberg Billionaires Index. Rupert, the eldest son of an industrialist who founded tobacco company Rembrandt Group, trails only diamond heir Nicky Oppenheimer, who has a net worth of $6.9 billion.
The richest black South African is fifth-ranked Patrice Motsepe, the owner of mining investment firm African Rainbow Minerals Ltd. and the brother-in-law of President Cyril Ramaphosa. At the other end of the spectrum, South Africa's income inequality is among of the worst internationally and white people in the country make nearly three times the average wage of black Africans, according to a World Bank report.
Opening with a more conciliatory tone than what was to follow, Rupert said the purpose of his interview was to try and bring together South Africans of all ethnicities, urging the embrace of "common goals and common ideals." However, his regular missteps proved more memorable, such as when he dismissed the interviewer as part of a "snowflake generation" for correcting his outdated racial terminology.
Warming to his theme, he went on to bemoan South Africa's young people, saying they could never cope with the prison sentences suffered by Nelson Mandela and his supporters because they would miss nightclubs too much.
Rupert also claimed he had black American friends who would find his mixed reputation in South Africa "incredibly funny," before listing them as basketball star Michael Jordan, British racing driver Lewis Hamilton and the model Naomi Campbell.
Rupert's Remgro holds stakes in South African companies such as hospital operator Mediclinic International Plc and drinks maker Distell Group Holdings Ltd.