WeWork Scales Back on Honesty-Based Snack and Drink Kiosks
(Bloomberg) -- WeWork is revising some of the amenities that boost its appeal to millennial and gig-economy members.
So-called Honesty Market stands, where tenants at select WeWork buildings can buy things like granola bars, potato chips and soda on the honor system at any hour of the day, have been shuttered in some U.S. locations, according to people with knowledge of the matter. At these locations, free coffee, tea and other drinks are still available. Other locations will be shuttered by the end of the year, some of the people said.
"WeWork continues to operate Honesty Markets across many of our U.S. locations," said a spokeswoman for WeWork. "We are currently piloting new food and beverage offerings, which will inform improved amenities for our members in the future."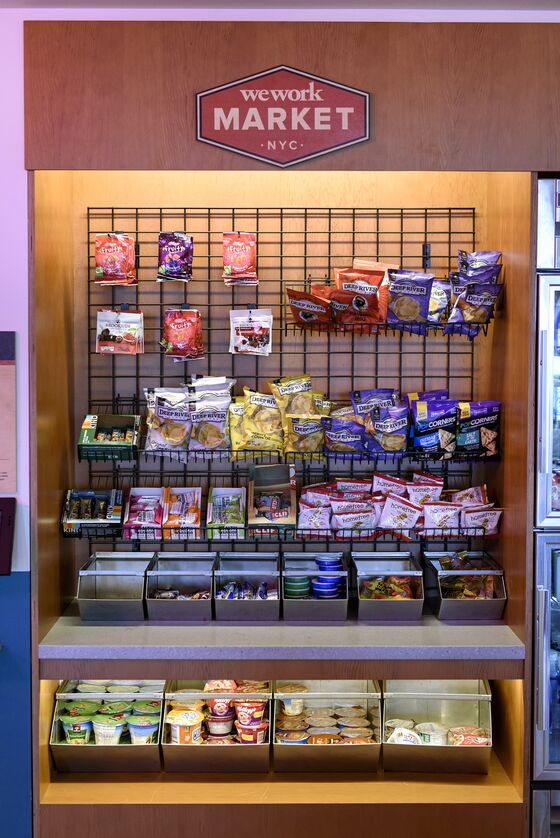 In a handful of locations in New York, the kiosks evolved into WeMRKT, which sell products from WeWork's member companies. That effort was spearheaded by Julie Rice, a co-founder of SoulCycle who was then WeWork's chief brand officer. She set out plans last year to open 500 WeMRKT stores, but left the company in March, according to her LinkedIn profile.
The decision to remove some of the Honesty Market stands was made several months ago, some of the people with knowledge of the matter said. Since then, WeWork has sought to reduce costs after its botched initial public offering led to a cash crunch and subsequent bailout by Japan's SoftBank Group Corp. The company has reined in its global expansion ambitions as it seeks to turn profitable and reassure investors about the sustainability of its business model.
The company told staff that U.S. job cuts would begin "in earnest" this week, while European employees were put on notice of layoffs earlier this month. The company reported a net loss of $1.25 billion in the third quarter, outpacing its sales and more than doubling its loss from the same period a year earlier.