This Startup in WeWork's World Is Targeting the 10- to 100-Worker Company
(Bloomberg) -- Convene, which provides flexible meeting and working space, enlarged its midtown Manhattan footprint with its biggest lease ever, expanding a partnership with RXR Realty LLC and going after the small to medium-size tenant that industry leader WeWork Cos. has just begun to court.
The New York-based startup has leased 116,000 square feet (nearly 11,000 square meters) of office space spanning four floors at RXR's 530 Fifth Ave. The target is businesses with 10 to 100 employees.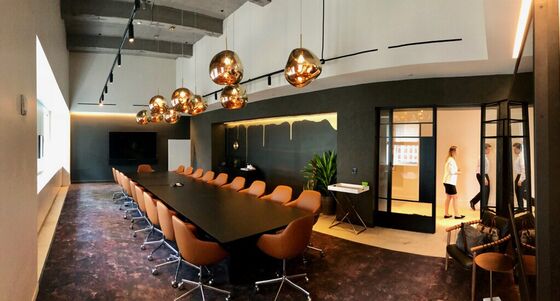 "This is mainly for companies looking for under 10,000 square feet that have outgrown a co-working environment but are not yet ready to commit to a long-term lease with a building owner," Ryan Simonetti, co-founder and chief executive officer of Convene, said in an interview. "We feel that whole segment has really been forgotten about."
In August, Convene's much larger rival announced the launch of HQ by WeWork for companies with 11 to 250 employees.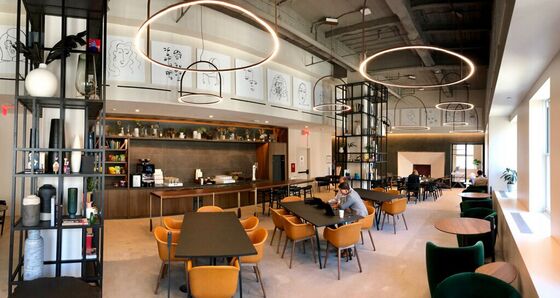 Founded in 2009, Convene started out providing solely special-events and conference venues. It wasn't until February that it offered a flexible-working-space option, which it branded WorkPlace, at Cove Property Group's 101 Greenwich St. A second New York City site, at Brookfield Property Partners LP's One Liberty Plaza, opens at the end of the year. The firm on Wednesday also announced its 20th location, just over 28,000 square feet on the 31st and 32nd floors of RXR's 75 Rockefeller Plaza.
Eighty percent of 530 Fifth, which is set to debut in the second quarter, will be for WorkPlace members, Simonetti said. Convene itself started in a traditional co-working space, but "once you start getting over 10 people," he said, "it's really not the right solution any longer."
Also active in or near Midtown are rivals Knotel and Amsterdam-based Spaces. Knotel announced Tuesday it had finalized four new leases totaling roughly 31,000 square feet in Midtown South. Spaces is planning to double its New York City footprint in one month, starting with the opening of its Spaces Hudson Yards location on Sept. 26.