Westpac Shares Drop On Outlook Concern, "Much Softer" Result
(Bloomberg) -- Westpac Banking Corp. shares dropped more than 5% in Sydney trading after delivering a smaller share buyback than many had expected and amid concern margins remain under pressure.   
The lender unveiled a record share buyback of up to A$3.5 billion ($2.6 billion), while cash earnings of A$5.35 billion fell short of analyst expectations of A$5.42 billion in the year to Sept. 30, it said in a statement Monday.
This marks "a much softer than expected result," Citigroup Inc. analysts including Brendan Sproules wrote in a report. 
Westpac fell 5.4% as of 10:22 a.m. in Sydney, paring this year's gain to 25%. The bank had been topping its rivals for this year through last week's close.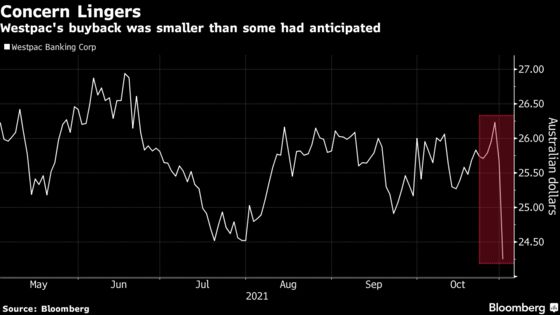 The bank's institutional unit was the only business to post a loss as it wrote down assets following an annual impairment test. The division posted a A$670 million loss, compared with a profit of A$332 million a year earlier.
What Bloomberg Intelligence Says:
"Consensus' A$6.4 billion profit for 2022 might be tricky to hit due to normalizing provision costs and margin pressure," said Matt Ingram, senior industry analyst at Bloomberg Intelligence 
Westpac Chief Executive Officer Peter King said he expects the Australian economy to recover over the next year despite some lingering uncertainties in the outlook as the country comes out of stringent lockdowns.
"Consumer spending will likely increase significantly as states re-open and pent-up demand is released," he said in the statement.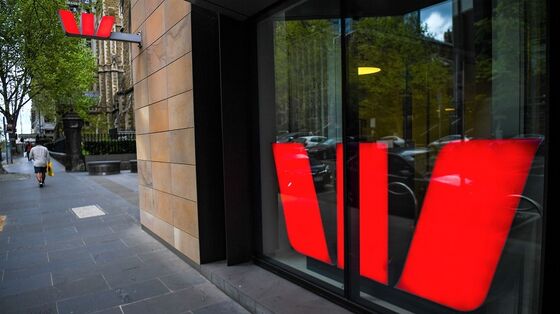 Impairment benefit of A$590 million for the year
Australian mortgage lending up 3% to A$14.7 billion
Net interest margin of 2.04%, down 4 basis points
Further progress in consolidating international business, closing offices in Mumbai and Jakarta, with three more offices expected to shut by end of 2022
For more details on the results, click here