Westchester Homeowners Offer Deepest Price Cuts Since 2014
(Bloomberg) -- Westchester home sellers discounted their way to a strong fourth quarter, whittling pricing to levels that even luxury buyers found appealing.
Owners in the suburbs north of New York City cut an average of 4.1% from their last asking price to strike a deal -- the most for any three-month period since the end of 2014, according to a report Thursday by appraiser Miller Samuel Inc. and brokerage Douglas Elliman Real Estate. That led to the biggest decline in listings since mid-2017 and drew enough high-end buyers to push median prices up 6.4% from a year earlier.
"We're seeing realistic sellers, which has resulted in more transactions," said Scott Elwell, Douglas Elliman's regional manager overseeing sales in Westchester County. "Well-priced homes at pretty much every price point are seeing multiple bids and are moving quickly."
The great discounting of 2019 has blunted the impact of a new federal tax law, which had roiled property sales in Westchester, home to the nation's highest local levies. Those local taxes can no longer be fully written off on federal returns, and house shoppers, wary of even higher carrying costs, held off on deals until they saw price cuts. Then mortgage rates sunk, adding more financial incentives to get deals done.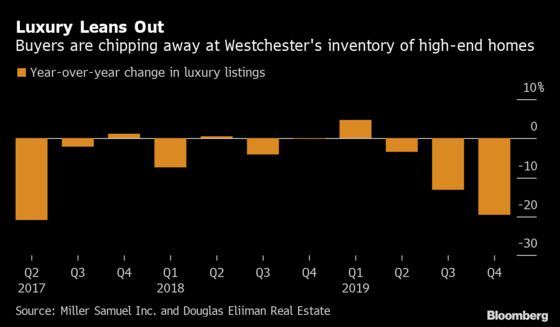 "The pricing was too high for what buyers were looking for," said Debbie Doern, regional vice president at brokerage Houlihan Lawrence, which released its own report on the Westchester market. "Once that all passed, the buyers started to come out."
In Scarsdale, the median sale price of homes fell in 7% in 2019 from the previous year to $1.4 million, according to Houlihan Lawrence. In Mamaroneck, the decline was 3% to $1.16 million, and in Bronxville, the median price of deals dropped 9% to $1.78 million.
Sales of homes priced at $2 million or higher plunged in the first half of 2019 and recovered some ground in the final six months of the year, Houlihan Lawrence said.
The momentum is poised to continue: As of Dec. 31, there were 22 sales pending for homes priced from $2 million to $2.49 million, up 47% from the prior year. Contracts for homes priced from $3 million to $3.99 million jumped 75%.
"Buyers are educated," Doern said. "They know when something feels like a value."
Listings for all residential properties -- condos, co-ops, single-family and two- to four-family homes -- declined 5.9% in the fourth quarter from a year earlier, Miller Samuel and Douglas Elliman said. At the current sales pace, it would take just 3.6 months to clear them all, the fastest rate in data going back to 1994.