Wendy's Margins Get Squeezed as Fast-Food Price War Continues
(Bloomberg) -- Fast-food chains were hoping 2019 would bring a truce in the price wars, but the battle for cheap fare is still in full swing.
Wendy's Co. got customers in the door late last year with a $1 any size French fries promotion -- but the discounting ultimately came at the expense of margins, Chief Financial Officer Gunther Plosch said on a Thursday morning conference call.
"We saw traffic but traffic was basically not enough to totally overcome and make this promotion totally profitable," he said when asked about the deal. He cited a competitive environment and called the cheap fries one of "the main drivers why we slightly missed our restaurant margin guidance for the year."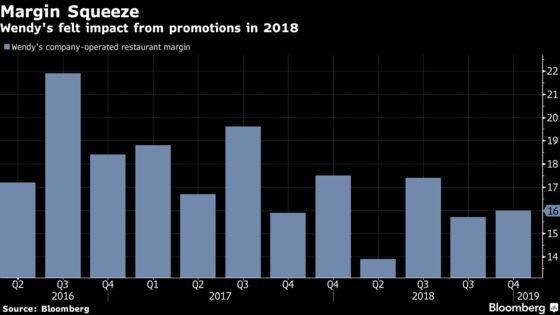 Wendy's also cited "pressure" on its lower priced burgers, and said it's trying to convince shoppers who come in for "4 for $4" deals to trade up into more premium $5 offerings. Its hamburger sales growth is "softer" than other items, Chief Executive Officer Todd Penegor said, especially as competition from fast-food Mexican and fried chicken restaurants heats up.
The U.S. restaurant industry has been locked in a battle for months to win customers with cheap prices, and many are touting deals coming in at $5 dollars or less. Taco Bell recently said comparable sales rose a better-than-expected 6 percent in its latest quarter, helped by new $1 Grande Burritos. KFC, which recently started advertising two sandwiches for $3, also slightly beat expectations in the latest quarter.
Wendy's isn't alone in feeling the squeeze. Jack in the Box Inc.'s Chief Executive Officer Lenny Comma cited a "value-centric environment" in the latest quarter, adding that the company has been trying to avoid the deepest discounting.