Wells Fargo's Poker-Faced CEO Sows Unease While Considering Change
(Bloomberg) -- Change is afoot inside Wells Fargo & Co.
Since Charlie Scharf arrived as the bank's new chief executive officer in October, he's held a marathon of meetings with executives, grilling them about the ways they do business. On busy days, a lineup of presenters has come and gone, some flummoxed by pointed questions or uncertain whether he was satisfied by their answers.
The intense review is prompting executives at the San Francisco-based bank to ponder their units' strategies -- as well as what's in store for their own careers. But most of the answers are in the mind of Scharf, who's becoming known within the bank for his poker face during meetings and who's said nothing publicly since taking control from an office in New York. Shareholders, too, are wondering how soon they may be briefed on the next phase of its overhaul.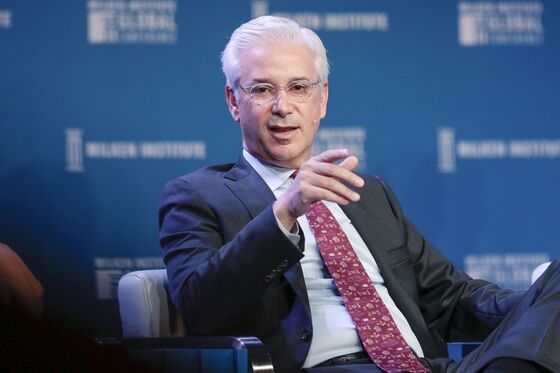 "Everything's on the table for consideration," Chief Financial Officer John Shrewsberry told investors at a conference in New York this month. "He's certainly not beholden to decisions that we made previously."
Scharf's scrutiny, described by more than a dozen executives and others close to the firm, hints at how dramatically the newcomer atop the nation's fourth-largest bank might shake things up, veering from decades in which Wells Fargo CEOs handed off the reins to a carefully groomed insider.
Colleagues say his top priority is fixing relations with regulators after three years of scandals. People close to those watchdogs say the lender already appears more contrite and amenable to deep changes since he began. That may help the bank resolve its main outstanding probes and ultimately persuade the Federal Reserve to lift an unprecedented cap on assets.
Executives said they're relieved the bank's six-month search for a CEO is over and that the new boss is focused on addressing those problems. But there are also anxieties. Scharf's era is starting as a fast-moving, at-times militaristic drive to scrutinize operations and potentially set in motion a wide variety of changes. He's direct in meetings, pressing for individual accountability and concise answers. Often, he wants to understand the rationale for past decisions.
Those insiders expect Scharf, 54, to reassign some executives and replace others by tapping his Rolodex from past work at JPMorgan Chase & Co., Visa Inc. and Bank of New York Mellon Corp. Such moves could say a lot about his strategy, including how he will address the need to overhaul technology and improve earnings after bogus sales forced the company to ease off a longstanding system of incentives. The bank's efficiency ratio, a key measure of profitability, worsened to 69.1% in the third quarter from 62.3% in the prior period, hurt by legal woes.
"There's clearly work that needs to be done," said Jason Goldberg, an analyst at Barclays Plc who recommends buying the stock. "You do want a sense of urgency."
Some close to Wells Fargo point to signs of budding alliances. Scharf has developed a rapport, for example, with consumer banking head Mary Mack, according to people who've witnessed them interact. Mack was a rising star, credited by the board for her progress in addressing lapses, before Tim Sloan abruptly stepped down as CEO in March. The planned retirement of Avid Modjtabai, who oversees payments and technology innovation, is poised to establish Mack as the most senior woman on the operating committee for as long as she stays on.
Yet Mack privately told investors at an event this month that she didn't know what targets Scharf may set after he's done examining operations and honing his opinions, according to people who attended, asking not to be identified discussing the closed-door event. The uncertainty was underscored by an investor relations official, who cautioned the audience before executives spoke that the new CEO is in the midst of a review and could make changes to strategy. Other veteran leaders include Shrewsberry, wholesale banking head Perry Pelos, and wealth and investment-management chief Jon Weiss.
As Shrewsberry pointed out at an investor conference in November, Scharf isn't entirely unfamiliar with the firm -- he's been both a competitor during his time at JPMorgan, where he ran retail banking, and a partner when he ran Visa. Wells Fargo executives say some of his questions at briefings show he aims to improve the experience for customers.
So far, his shakeups have been modest, mostly creating positions or filling empty posts. This month, Scharf named Banco Santander SA executive Scott Powell to the vacant job of chief operating officer. Last month, the CEO enlisted former White House chief of staff Bill Daley for a new post overseeing public affairs. Daley, a fellow JPMorgan alum, had served as one of Scharf's top advisers at BNY Mellon.
Scharf has yet to say who will replace outgoing general counsel Allen Parker, who served as interim CEO this year, and Modjtabai, the tech-payments head. And then there's the question of which other vacancies may open up.