Weidmann's Early Exit Sticks With ECB Tradition for Germans
Jens Weidmann's early exit as Bundesbank chief years before the end of his term adds another name to a long tally of Germans quitting the European Central Bank's Governing Council before their time is up.
Chancellor Angela Merkel's outstanding 16-year stint in office stands in contrast with a growing roster this century of global luminaries from Germany who haven't lasted the course, including former Pope Benedict and the ex-International Monetary Fund chief Horst Koehler. But the ECB is where the greatest succession of early resignations has taken place.
Since the ECB was founded in 1999, just one Bundesbank president and one Executive Board member from Germany have finished their terms as scheduled. Those who departed early often cited the frustrations of the savings-oriented nation with loose policies and low interest rates. Weidmann did the same on Wednesday in a letter to staff where he signed off with a final expression of frustration at the inflation dangers fostered by ECB policies.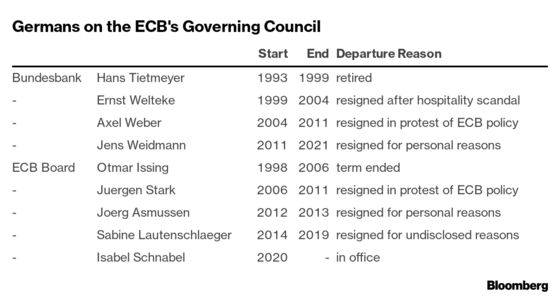 Executive Board member Sabine Lautenschlaeger quit in 2019 and her two predecessors on the panel also left early. Then-Chief Economist Juergen Stark resigned from the board in December 2011 over his opposition to stimulus measures, and Joerg Asmussen served only two years before leaving to join the German government. 
Weidmann's exit "doesn't come as a surprise," Stark told Boersen-Zeitung on Wednesday. "Nobody can support policy that runs counter to one's own conviction for more than a decade."
The 2011 resignation of Axel Weber from the Governing Council, giving up his post at the head of the Bundesbank, thrust Mario Draghi into the ECB presidency. Until then Weber had been the frontrunner to succeed Jean-Claude Trichet.
Weber's predecessor as Bundesbank chief -- Ernst Welteke -- also quit early. 
"Weidmann continues what has almost become a tradition of German central bankers leaving office before the official end of their term," said Carsten Brzeski, an economist at ING in Frankfurt. "At the same time, ten years in office as Bundesbank president is not short."