Weidmann Defends Sacred German Debt Brake Scholz Wants to Tweak
(Bloomberg) -- Germany's constitutional brake against taking on too much public debt has served the country well and should be preserved, Bundesbank President Jens Weidmann said.
With the revelation this week that Finance Minister Olaf Scholz wants to attempt a contentious tweak to the rule in a move that could unlock some stimulus, the comments on Friday by the central bank chief risk bringing him into the political fray.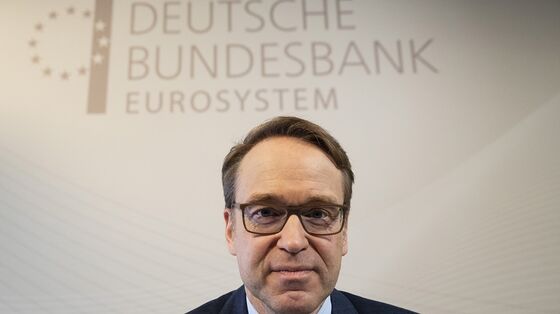 "I would caution against undermining the debt brake," Weidmann said in an interview with Bloomberg Television. "The debt brake has been quite crucial to anchor fiscal policy in Germany and also to inspire trust in the sustainability of public finances."
Scholz is bidding to suspend the rule in order to shift municipalities' debt onto the federal balance sheet, a move that could cost 20 billion euros ($22 billion) and might allow local authorities to then spend more. Given how fiscal reticence is placed on a political pedestal in Germany, he's likely to encounter considerable opposition to that. Any change would require a two-thirds majority in Parliament.
The initiative already provoked a backlash among lawmakers in Chancellor Angela Merkel's CDU/CSU alliance, though it's likely to be well received in Scholz's own SPD party, which is in coalition with them.
Weidmann, a former economic adviser to Merkel who is now a European Central Bank policy maker, insists that the debate shouldn't be seen in the context of potential stimulus to aid the Germany economy. "This is a completely unrelated discussion to the current cyclical situation," he said.