Wealth Rose in Pandemic Even for Bottom Half of U.S. Households
(Bloomberg) -- U.S. household net worth rose sharply in the first year of the pandemic, with the poorest half of the country posting the fastest increase in percentage terms -- even though their dollar gains were dwarfed by the new wealth flowing to the top.
The aggregate net worth of the bottom half of households grew 36% in the 12 months through March, compared with a 33% jump for the top 1%, according to data published this week by the Federal Reserve.
That translates to $700 billion of extra wealth for the 64 million households that make up the bottom half. Their share of the national total rose to the highest level since 2007 -- though it's still only 2%. By comparison, the top 1% of households -- about 1.3 million families -- saw their net worth surge by more than $10 trillion in the year through March.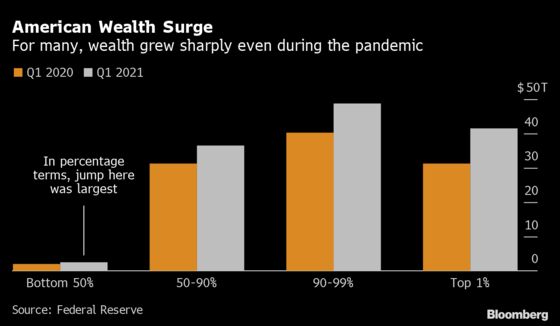 Most of the new wealth at the top came from gains in the stock market. The richest 1% of households held equities worth $20 trillion last quarter, up from $11.5 trillion a year earlier, and their share of overall stock ownership rose to a record high of 53.5%.
A nationwide housing boom has been the other big driver of wealth. The top 10% of households now hold real-estate assets worth a net $11.8 trillion (after deducting mortgage debt), compared with $1.4 trillion for the bottom 50%.
Broken down by education, college graduates posted the biggest gains but other groups weren't far behind in percentage terms -- except for households headed by people without a high-school degree, whose net worth declined in the period.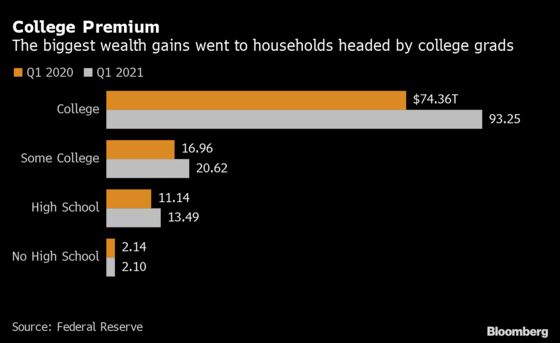 The Fed also breaks down wealth holdings by income groups -- where the data shows a surge at the top and a squeeze in the middle.
The highest 1% of earners saw their share of overall wealth rise to a record high of 26.7%. For the middle one-fifth of the income distribution, the share dropped to 7.2%, a record low.
Those trends have persisted since the financial crisis of more than a decade ago. Compared with the second quarter of 2009, the highest earners have added almost 6 percentage points to their share of the national wealth, while the middle-class share has dropped more than 2 percentage points.