Wayfair's Surge Hits Short Sellers With $1 Billion in Losses
(Bloomberg) -- A surge in the shares of Wayfair this year has burned short sellers and could herald more gains for the stock as bears seek to cover their positions.
Short sellers have more than $1 billion in mark-to-market losses in 2019 after Wayfair's 81 percent rally, according to Ihor Dusaniwsky, managing director of predictive analytics at S3 Partners. With the number of Wayfair shares on loan to bearish investors relatively flat this month, further gains will probably pressure some to throw in the towel, he said. Wayfair rose for a third-consecutive day on Tuesday with a gain of 1.4 percent.
"With long buyers and short covering buoying Wayfair's stock price, we can expect the stock to continue to test and probably surpass the year-to-date highs it hit today," he wrote in a note.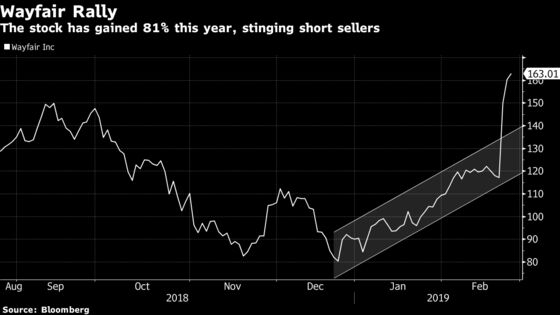 Wayfair shares jumped to their highest since the initial public offering on Friday as fourth-quarter sales soared more than 40 percent and results beat Wall Street's expectations after a banner holiday season.