Warp Speed's Former Adviser Offers Help to Spur EU Vaccine Drive
(Bloomberg) -- Under mounting pressure to accelerate its vaccine rollout, the European Union has sought guidance from Moncef Slaoui, the former chief scientific adviser to the U.S. government's Operation Warp Speed.
Slaoui, who resigned last month as the co-leader of the U.S. effort to develop and distribute Covid-19 vaccines, said he has spoken a few times with European Commission President Ursula von der Leyen to discuss vaccine strategies. He also joined a videoconference with Von der Leyen and pharmaceutical bosses on Sunday to discuss the bloc's plans to combat emerging variants of the coronavirus, boost manufacturing capacity and strengthen Europe's defenses against threats in the future.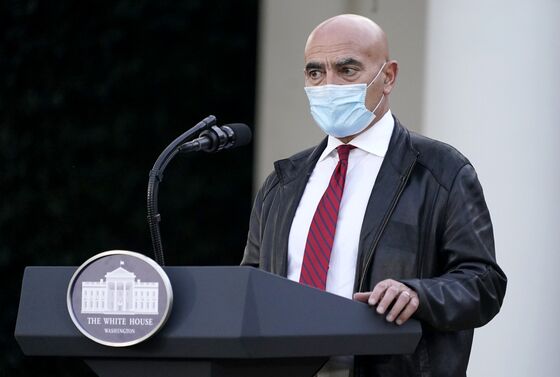 "I was asked to help them, but I don't have any kind of formal role," said Slaoui, who was tapped by the Trump administration to lead the joint effort between the U.S. Department of Health and Human Services and Department of Defense in May. Speaking in an interview, Slaoui added that he's willing to continue to give advice to government officials if he can "add value."
The conversations with Slaoui and drugmakers such as Pfizer Inc. and Johnson & Johnson are among steps the EU is taking to battle Covid-19 and prepare for the next health emergency. The bloc is struggling to pick up the pace of its immunization drive as potentially more dangerous versions of the pathogen raise the risk that vaccines could become less effective. The EU has also been locked in a dispute with AstraZeneca Plc over vaccine supplies.
Another topic officials in Europe tackled was whether the bloc should consider a measure similar to the U.S. Defense Production Act, Slaoui said. The Trump administration invoked the Cold War-era law 18 times to boost the manufacturing of vaccines and the supplies required to administer them, according to the ex-Warp Speed chief. Biden has said he'd employ the measure as well.
The European Commission over the weekend also pointed to the planned EU Health Emergency Preparedness and Response Authority, which is aimed at helping anticipate and take on new threats.
Slaoui, a Belgian-American immunologist and former executive at U.K.-based GlaxoSmithKline Plc, helped lead a Manhattan Project-style effort to ramp up vaccine development and distribution in the U.S. Now others could turn to him for insights, but Slaoui said he doesn't intend to accept a Warp Speed-like role.
Although the U.S. has encountered snags and Biden and his top advisers have criticized the Trump administration's approach to deploying vaccines, the U.S. jumped well ahead of the EU in immunizing its population. The bloc has administered 2.9 doses per 100 people, compared with 10 in the U.S. and almost 15 in Britain, according to Bloomberg's tracker.