Andy Warhol's 'Gun' Is Offered by Star Adviser at Auction
(Bloomberg) -- Tobias Meyer, an art adviser who oversaw some of the biggest Andy Warhol transactions, is selling his own painting by the iconic Pop artist.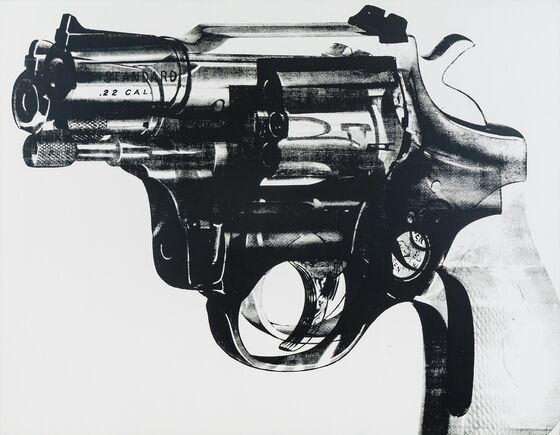 Meyer, who has worked with Ken Griffin and the late Samuel "Si" Newhouse, is the anonymous seller of Warhol's "Gun" at Phillips on Nov. 15, according to a person with knowledge of the matter, who asked not to be identified because the information isn't public. The 6-by-7.5-foot work from the early 1980s is estimated at $7 million to $10 million, the most expensive Warhol offered during this month's auctions in New York.
Michael Sherman, a Phillips spokesman, declined to comment, as did Andrea Schwan, a spokeswoman for Meyer.
The painting was acquired in 1999 by the present owner, according to the Phillips catalog. It was featured in a W Magazine article about Meyer's former apartment in the Time Warner Center in Manhattan, where it was displayed near a light sculpture shaped as a dollar sign. The two works symbolized "two inescapable truths," Meyer told the magazine in 2005.
In November 2013, during his last sale as head of Sotheby's international contemporary art department, Meyer hammered down Warhol's "Silver Car Crash (Double Disaster)" for $105.4 million, the artist's standing auction record.
He brokered a deal for Warhol's "Orange Marilyn," which was reportedly sold last year by the Newhouse family to Griffin for more than $200 million. He was also involved in Griffin's purchase of paintings by Jackson Pollock and Willem de Kooning from billionaire David Geffen for $500 million. The works are on view at the Art Institute of Chicago.