Want to Bet on Currency Market Risk? The Aussie Is Fast Becoming Main Game in Town
(Bloomberg) -- Australia's dollar, a favorite among traders for betting on risk in currency markets, is even more attractive than usual as a proxy, Royal Bank of Canada says.
One of the cheapest hedges against risk is to bet on declines in the Aussie, according to the bank. Another lure is that the Aussie shows an increasing correlation with equities, looking at each of the Group-of-10 pairs, strategist Elsa Lignos wrote in a note to clients Tuesday. The relationship is even stronger than those for Latin American currencies, she said.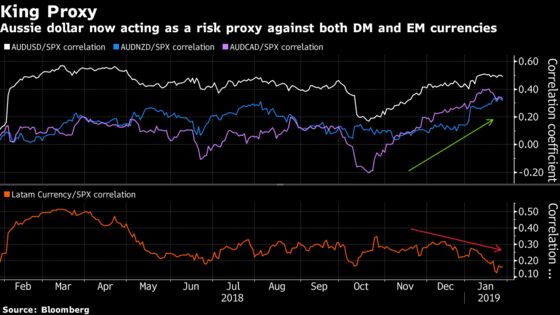 "It's normal for AUD to trade as a risk proxy in G-10, but it's unusual for all G-10 AUD-pairs to be showing a significant correlation to equities -- even the likes of AUD/NZD, AUD/SEK and AUD/NOK," she wrote. "Even more unusually, AUD is now trading as a risk proxy compared to the likes of BRL and MXN."
For the uninitiated, AUD refers to the Aussie, NZD to New Zealand's dollar, SEK to Sweden's krona, NOK to Norway's krone, BRL to Brazil's real and MXN to the Mexican peso.
The fact China is the source of much of the current risk in the market and the liquidity in the Australian currency are possible reasons for the rising correlation, Lignos wrote. The Aussie is now trading as a risk proxy against 70 percent of emerging-market currencies studied, she said.
The Aussie was the worst-performing G-10 currency versus the U.S. dollar last year and dropped to the weakest level in almost a decade in early January amid concern global growth is slowing. The currency has since rallied alongside global stocks, and is now up about 2 percent this year.
The Aussie's increasing correlation to stocks gives traders looking to hedge against risk an attractive option, Lignos said. However, investors placing Australian dollar bets for other purposes should be aware of the stronger relationship, she wrote.
"If this holds, it makes shorting AUD one of the cheapest risk-off hedges in FX based on its cost of carry," Lignos said, referring to differences in borrowing costs across currencies. "It's also something to bear in mind when putting on AUD trades one might assume would be equity-neutral."