Walmart, Target Seek Digital Brand Boost in Different Ways
(Bloomberg Opinion) -- Walmart Inc. and Target Corp. have each made it clear they want a piece of the success that upstart brands from the internet are enjoying in today's retail environment. This week offered a clear example of the different tacks they are taking in pursuit of that ambition.
Both of these moves were typical of the playbooks we've seen recently from these big-box rivals.
Walmart has been working for a couple of years now to make its U.S. retailing empire into more than just Walmart and Sam's Club — to instead make a constellation of shopping experiences that appeal to a wider cross section of consumers. That started with a bang in 2016 when it bought e-commerce startup Jet.com for $3.3 billion.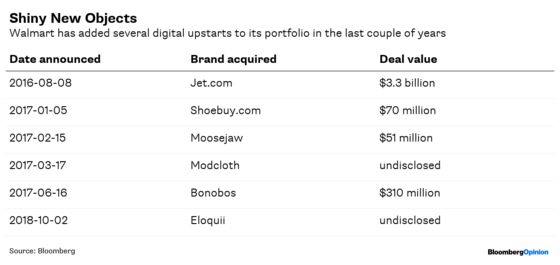 It eventually acquired Bonobos for $310 million, and now the founder of that concept, Andy Dunn, heads up Walmart's effort to build a stable of stand-alone digital brands, both from scratch and through acquisitions.
Target, meanwhile, is mostly seeking to team with buzzy newcomers by putting such products on its store shelves. It recently started carrying Native deodorant, and since 2016 has also begun selling Harry's grooming products, Bark pet gear and Casper mattresses. (It invested in Casper around the time it started carrying its products.)
I don't think one of these approaches is necessarily superior to the other; there is defensible logic to each one. Target's strategy comes with little risk, and yet the big-box chain gets to burnish its "Tar-zhay" reputation by offering hip, disruptive brands.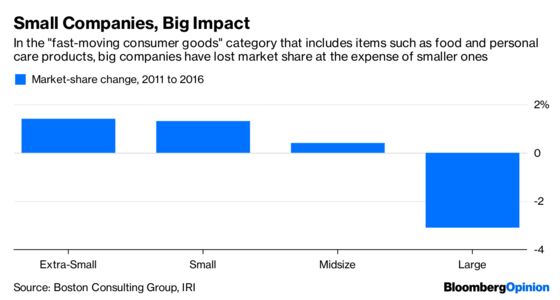 As for Walmart, its strategy prudently acknowledges that much of the growth in online shopping is coming from relatively affluent consumers, and its flagship chain isn't a great vehicle for reaching them. So instead, it's building and buying brands that have separate identities but that benefit from Walmart's shipping network and other infrastructure.
Eloquii is a smart acquisition target for Walmart. The plus-size market is seriously underserved, and Eloquii is a rising star in that business. One of its few brick-and-mortar stores is located in Arlington, Virginia, and I remember being impressed when I visited a while back at how much trendier its merchandise was than what I saw at more established chains.
In an interview Tuesday, Dunn explained how they are already seeing some "cross-pollination" of talent within his dominion at Walmart; the CEO of vintage-inspired clothier Modcloth, for example, is an alumnus of Bonobos. As Eloquii joins that nexus, Dunn brings yet more digital-centric thinkers into the fold. If he can, over time, manage to assemble something of a Murderer's Row of e-commerce insurgents, that could prove key in its ongoing duel with Amazon.com Inc.
Digital-first brands are the retail industry's most powerful drivers of innovation right now. Walmart and Target are right to put their big-box-sized engines behind them. 
This column does not necessarily reflect the opinion of the editorial board or Bloomberg LP and its owners.
Sarah Halzack is a Bloomberg Opinion columnist covering the consumer and retail industries. She was previously a national retail reporter for the Washington Post.