Walmart Says Kanye West's Sun-Like Logo Too Much Like Its Own
(Bloomberg) -- Walmart Inc. has filed a complaint over Kanye West's proposed trademark for his Yeezy brand, saying it looks too similar to the sun-like symbol that represents the world's largest retailer.
Walmart filed its opposition against Yeezy's symbol, which the retailer says resembles its own design but with spots instead of solid lines, with the U.S. Patent and Trademark Office on April 21. The company is arguing that West's symbol "is likely to cause confusion and lead to consumer deception."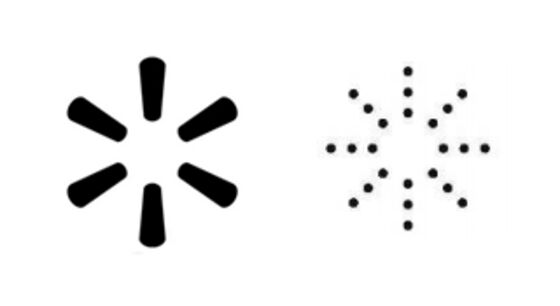 Yeezy's logo would be multiple fully shaded circles comprised to form the shape of sun rays. Walmart's logo, dubbed Spark, consists of six yellow rays centered around a circle. Walmart also says West's application should be blocked because the retailer has been using its logo since 2007.
West's Yeezy sneaker brand, which is produced in partnership with Adidas AG, has proven extremely popular and frequently sells out. Last year's sales netted him $191 million in royalties. West also has an upcoming apparel collaboration with Gap Inc. that he has also filed a new logo trademark application for.