Walmart's Roar Is Getting Loud Enough to Rattle Amazon
(Bloomberg Opinion) -- Walmart Inc.'s message is only getting louder: It's ready and able to take the fight to Amazon.
The big-box chain followed up a blistering second quarter by reporting Thursday that U.S. comparable sales rose a robust 3.4 percent in the latest period over the same three months last year. Executives said they saw healthy sales across a wide range of products, including back-to-school gear and health and wellness items. And they raised full-year earnings guidance.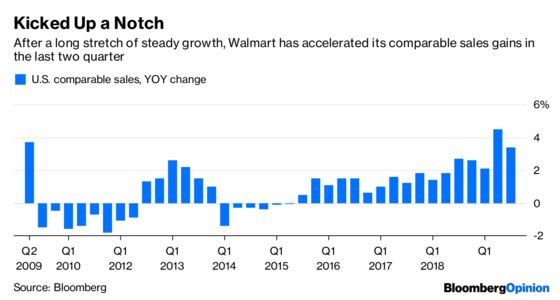 In sizing up Walmart's performance, no department is more important than grocery. That's not only because these goods account for more than half of the retailer's U.S. sales, but because I believe this business is the most essential ingredient in Walmart's recipe for turning into a digital powerhouse. Walmart didn't look quite as strong in this segment during the latest period as it did in the previous quarter, when it recorded its best comparable sales growth in nine years. But its performance is still plenty satisfactory: Comparable sales were up "low single digits," and the company said its fresh food offering saw "strong traffic."
The company continues to blanket the country quickly with click-and-collect services, which it said Thursday are now available at 2,100 stores, as well as grocery delivery, offered from 600 locations. That's a serious running start on Amazon.com Inc., which recently bragged in a press release about offering pick-up from Whole Foods in 22 cities.
In Walmart's U.S. business, traffic overall was up 1.2 percent in the quarter, the 16th straight period of gains on this measure. This has been driven by cleaner, better-stocked stores. In the holiday shopping season that is now shifting into high gear, Walmart has good plans for keeping up the streak: On Black Friday, it's offering free cookies and Keurig coffee to shoppers. And store workers wearing "Check out with me" sashes will be positioned in busy sections of the stores so customers can pay for their goods without waiting in line at the cash register. The first effort seems aimed at making its stores feel more welcoming and experiential; the second is an attempt to prevent shoppers from getting cranky by letting them get through checkout quickly. Both should help Walmart continue to be a traffic magnet. 
Of course, none of this means Walmart can simply coast from here. Its e-commerce sales rose 43 percent over a year earlier in the quarter, but if that stumbles in the holiday season as it did in this crucial period last year, you can be sure investors will get scared —  not only because of what it would suggest about Walmart's prospects in the U.S., but also because of it would say about the company's ability to manage its massive investment in Indian e-commerce giant Flipkart.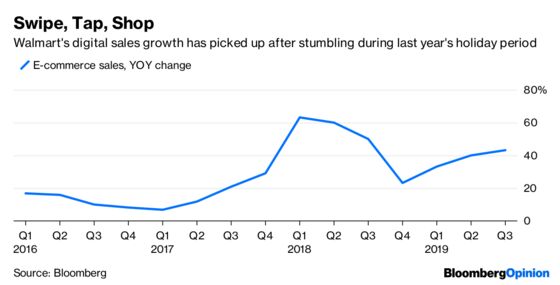 Also, gross margin fell to 24.8 percent in the quarter as the company shouldered higher transportation expenses and rising e-commerce fulfillment costs while also trying to win price wars with the likes of Aldi and Dollar General Corp. None of those pressures are going away anytime soon.
Walmart's results came a day after Warren Buffett's Berkshire Hathaway Inc. disclosed that it sold all of its shares in the retailer.  If Walmart keeps delivering results like these, Buffett may find himself wishing he hung in there a while longer. 
This column does not necessarily reflect the opinion of the editorial board or Bloomberg LP and its owners.
Sarah Halzack is a Bloomberg Opinion columnist covering the consumer and retail industries. She was previously a national retail reporter for the Washington Post.