WallStreetBets Gains More Than a Million New Members Overnight
(Bloomberg) -- More than one million new members rushed to join r/wallstreetbets overnight after the Reddit forum briefly went dark Wednesday evening.
The internet forum, which has fueled a frenzy in stocks including GameStop Corp. and AMC Entertainment Holdings Inc., now boasts 4.4 million members -- or "degenerates," using the site's own terms. That's up from 3.4 million yesterday evening, and nearly 2.5 million more members than there were just Friday.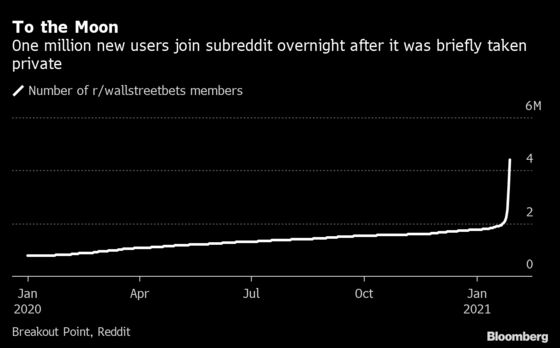 So much attention has cascaded on WallStreetBets that it took itself private for a little over an hour Wednesday evening in New York due to concerns about its ability to police content. Around the same time, communications platform Discord banned WallStreetBets for allowing "hateful and discriminatory content after repeated warnings," according to a representative.
The subreddit, as such Reddit forums are called, has even caught the eye of Washington. The Securities and Exchange Commission said it is "actively monitoring" volatility in options and equities markets. Both White House press secretary Jen Psaki and Federal Reserve Chair Jerome Powell were asked in press conferences yesterday about the happenings in the stock market.
After WallStreetBets went dark, some of the stocks favored by the forum tumbled in after-hours trading, with GameStop falling as much as 37% and AMC sinking more than 50% at a point. Those losses were quickly pared. As of 7:43 a.m., GameStop was up 36% in pre-market trading Thursday.