Wall Street Still Betting on Macri Victory in 2019 Election
(Bloomberg) -- A majority of investors believe Argentine President Mauricio Macri will be re-elected next year despite the country's sharp economic downturn under his watch, according to a survey published Thursday by Buenos Aires-based consulting firm Poliarquia.
Investors see high probability -- over a 70 percent chance -- that Macri will face former president Cristina Fernandez de Kirchner in a runoff vote late next year. They say Macri has a 56 percent chance of winning, while Fernandez has a 22 percent chance of returning as president. Market participants put a 38 percent probability of another Peronist candidate besides Kirchner winning the election.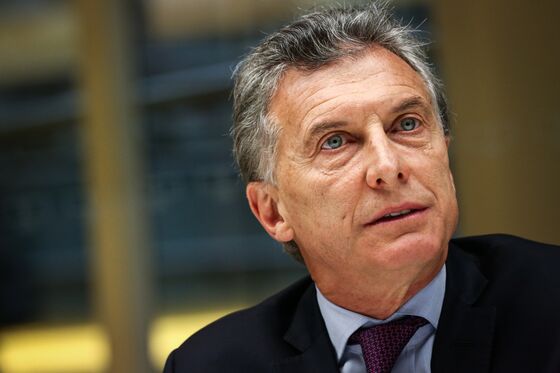 Poliarquia surveyed 80 investors, with 60 percent of them based in the U.S., and the rest from Europe and Latin American countries. The firms range from hedge funds to investment banks to pension funds. The poll was conducted between Oct. 26 and Nov. 2.
Investors' optimistic view stands in sharp contrast to that of voters in Argentina. Macri's approval rating is near the lowest point of his presidency as consumer confidence has plunged in the aftermath of a currency crisis. Argentina's economy will be in a recession this year and next.
Fernandez, now a senator, has a slightly higher approval rating, according to a separate poll published this week. While she still enjoys a strong base of support, Fernandez and her former allies have been caught up in a myriad of graft accusations with several former advisers in jail and Fernandez herself potentially facing trial. For now, she has congressional immunity.
"It's noteworthy that despite the severe economic conditions in Argentina at the moment, the market is expecting a victory by the ruling party in next year's elections," said Alejandro Catterberg, director of Poliarquia.
After storming into the presidency in late 2015 in a tight race, Macri quickly lifted capital controls and settled a decade-long dispute with hedge funds over defaulted debt. His government issued tens of billions of dollars in new debt, including a 100-year bond, and handed investors strong returns until reality caught up with the administration this year.
As the U.S. began to raise rates at a faster pace, investors began to punish countries running high current account and fiscal deficits. Argentina took the brunt of the selloff along with Turkey. The peso has tanked 48 percent in 2018 while the government's dollar bonds have lost 12 percent, the worst in emerging markets after Zambia. The flagship century bond currently trades at 77 cents on the dollar to yield 9.2 percent.
Market participants give a 13 percent probability that Cambiemos could default on sovereign debt after the 2019 election against 74 percent should Fernandez win the election. If a more moderate Peronist candidate wins, the chances of default were set at 38 percent in the survey.
Argentina's credit default swaps currently price in a 32 percent chance of default over the next five years.
When asked how optimistic or pessimistic they were, 73 percent replied somewhat optimistic and three percent very optimistic. Only three percent were very bearish and 22 percent somewhat pessimistic.