Wall Street's Popular Fed Bet Gets Rescue From Powell Nomination
(Bloomberg) -- One of the most fashionable trades in the U.S. rates market dodged a bullet Monday when Federal Reserve Chair Jerome Powell was nominated to serve a second term. 
Wagers on a steeper eurodollar futures curve -- which come in several flavors -- were among the biggest beneficiaries of the White House decision to stick with Powell. Broadly, they anticipate the Fed will accelerate its wind-down of asset purchases in order to start raising interest rates sooner.
Some of Wall Street's largest banks -- including Citigroup, Morgan Stanley and TD Securities -- have recommended a version of the eurodollar curve steepener. They look for the expected Fed policy rates for dates beyond 2022 to rise. On Monday, the announcement that U.S. President Biden had decided to keep Powell spurred a 10-basis-point increase in the end-2023 rate -- a good start for the wagers.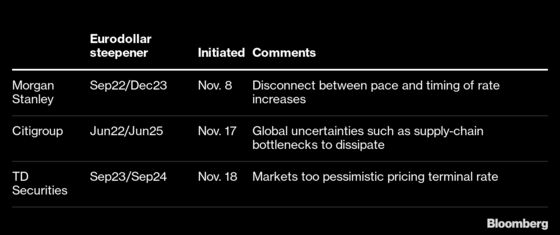 In recent weeks, the possibility that Fed Governor Lael Brainard would be nominated to succeed Powell impaired the eurodollar wagers based on the view that she has a more dovish bent. After Monday's White House announcement, overnight index swaps started pricing in a June rate increase and another one by the end of 2022.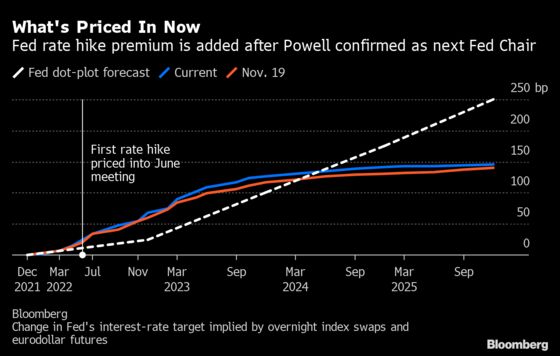 It remains to be seen if Powell Fed will persuade the market to price in a terminal policy rate closer to its own projections, and deliver a windfall for traders in the popular eurodollar strategy.