Wall Street's Muni-Bond Traders Feel Pinch as Fees Keep Tumbling
(Bloomberg) -- Wall Street's muni-bond traders keep getting pay cuts.
The fees they reap from buying and selling customers' securities have fallen steadily for the past nine years as electronic trading expanded and regulators moved to inject more transparency into the $3.8 trillion market, according to a study released Wednesday by the Municipal Securities Rulemaking Board.
The average fee -- measured by the difference between what a dealer and a customer pay or receive for a security -- dropped to 73 basis points by early this year, less than half what it was in 2005, Simon Wu, chief economist for the MSRB, found.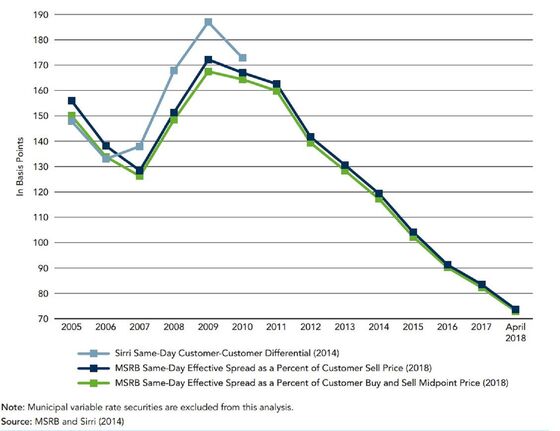 "Our analysis shows that effective spreads have fallen substantially since 2005 for customer trades of less than $1 million," Wu said in a statement.
Regulators have been steadily seeking to improve the information available on the state and local-government bond market, which is dominated by individual investors. In 2005, the MSRB began requiring same-day disclosure of trading prices, allowing bondholders to gauge where the market is trading before buying and selling securities. In May, new rules took effect that will require dealers to disclose the fees on many trades, a step that some analysts said may continue to push costs down.