Wall Street's Junk Bond Forecasts Lack Conviction
(Bloomberg Opinion) -- High-yield investors needed skillful guidance at the end of 2018, perhaps as much as they ever have since the financial crisis. And Wall Street wasn't there for them.
December turned out to be the worst month for junk bonds since 2015, capping off only the second yearly loss for the riskiest U.S. corporate debt since 2008. What's more, no speculative-grade borrower tapped the market, making it the first month in a decade with no sales. Money was pouring out of mutual funds tracking the asset class. The largest high-yield exchange-traded fund crumbled. Yield spreads widened on Dec. 20 by the most in more than seven years. The idea that America was veering toward a recession — the bane of junk bond investors — was becoming part of the zeitgeist. 
Amid the turmoil, strategists at Wall Street's biggest banks appeared cautiously optimistic that the market would settle down. Bloomberg News's Gowri Gurumurthy gathered up return forecasts as of Jan. 4. Morgan Stanley saw a modest 0.5 percent gain. JPMorgan Chase & Co. said 3.25 percent. Barclays Plc estimated a range of 3.5 percent to 4.5 percent. Wells Fargo was the most bullish, calling for returns of 6 percent to 7 percent. Considering that the average yield on junk bonds was about 8 percent at the end of the year, none of these were especially bold calls.
Less than two weeks later, another roundup revealed much sunnier forecasts. Morgan Stanley: 4.5 percent. JPMorgan: 8 percent. Barclays: 6.5 percent to 7.5 percent. Wells Fargo: 9.9 percent. All were at least 3 percentage points higher than previous estimates.
Bloomberg News's Kelsey Butler described the turnaround as "stunning." It is, but mostly because the strategists so brazenly tossed aside what were presumably well-reasoned year-end estimates. It doesn't take much to see that the Bloomberg Barclays U.S. Corporate High-Yield Bond Index is up 3.1 percent this year, and then match that up with the banks' revised forecasts.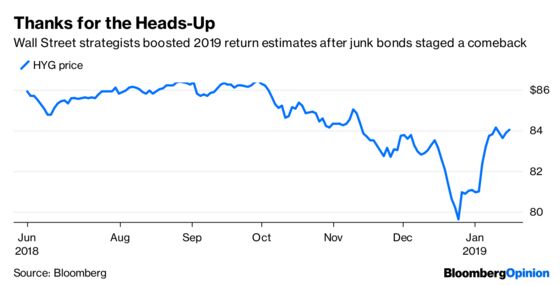 Being a market forecaster has never been easy; it's a profession in which mistimed calls and reluctant revisions are the norm, not the exception. It explains why many pundits are hesitant to be pinned down to any given figure. Still, for these high-yield strategists to change course so quickly raises the question of exactly how investors should use these estimates, if at all. Shouldn't the prospect of a relief rally have been baked into the outlook in the first place?
That, in effect, is Barclays's argument for boosting its return expectation for leveraged loans. Its latest numbers "essentially account for the recovery of the losses incurred in December on top of the returns we originally forecast for 2019," analysts led by Bradley Rogoff said. Fair enough. But when it comes to junk bonds, the December losses were "more of a liquidity-driven event, as opposed to a more negative reassessment on growth and earnings prospects for the year ahead," they said in a Jan. 11 report.
Investors could have already gleaned that before 2019's rally, though. As I noted on Dec. 21, the high-yield market effectively "puked," with huge sales in the iShares iBoxx High Yield Corporate Bond ETF, bringing trading volume in HYG to a record. In the moment, it was seen as largely a repricing based on liquidity, not fundamentals. With that out of the way, "expect a calmer ride the rest of the year as investors assess whether to step back in come January," I wrote.
Now, not all forecasts come out at the same time, which muddy an analysis of their accuracy. JPMorgan, for example, estimated a 3.3 percent return at the end of November before the ensuing 2.1 percent decline over the next month. The Barclays outlook came in early December. And other strategists at Bank of America Corp., Citigroup Inc. and UBS Group AG have held firm on their calls thus far. There's a certain element of getting out in front of the competition, combined with publishing before the holidays, at work here.
Still, given the year-end volatility, it would have been helpful for investors to have a refreshed outlook for 2019. At this point, they've already missed out on a nice rebound, unless of course they work at Hindsight Capital LLC, the creation of my Bloomberg Opinion colleague John Authers.
All this is to say investors need to scrutinize Wall Street's annual return estimates if they don't already. A potentially significant revision is often one rally or sell-off away.
This column does not necessarily reflect the opinion of the editorial board or Bloomberg LP and its owners.
Brian Chappatta is a Bloomberg Opinion columnist covering debt markets. He previously covered bonds for Bloomberg News. He is also a CFA charterholder.