Wall Street Races to NXP's Defense After Failed Qualcomm Deal
(Bloomberg) -- A handful of NXP Semiconductors NV bulls have emerged since the company's planned $44 billion takeover by Qualcomm Inc. fell apart Wednesday after failing to win Chinese regulatory approval.
At least five analysts have upgraded their recommendations on NXP to the equivalent of "buy" with many noting that an overhang on the stock was lifted when the nearly two-year saga with Qualcomm finally came to an end. A 12 percent decline in the shares over the prior three days also made for a more compelling risk-reward calculation, according to Sanford Bernstein & Co.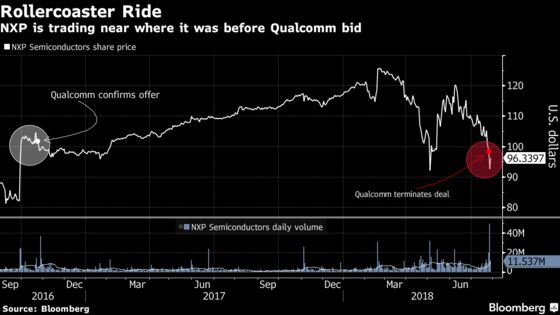 "For patient investors we think there is enough upside following the deal flush to begin building a position," Bernstein analyst Stacy Rasgon said in a research note Friday, adding that "it's not hard to argue that the shares could be mispriced." He upgraded the shares to outperform from market-perform and set a price target of $115, 24 percent above the last closing price.
Shares of Eindhoven, Netherlands-based NXP rose 3.6 percent Friday at 10:40 a.m. in New York, snapping a three-day skid.
Along with Bernstein, analysts from Deutsche Bank, SunTrust Robinson Humphrey, Mizuho Securities USA and Jefferies all raised their ratings on NXP over the past two days. The stock now has seven buys, nine holds and no sell recommendations, according to data compiled by Bloomberg.
"While NXP acknowledged deal fatigue has impacted revenues in the past couple quarters, we believe the management team remains engaged and can address some of the incremental headwinds," Ross Seymore, an analyst with Deutsche Bank, said in a note upgrading the stock to buy from hold.
Analysts also highlighted NXP's $5 billion buyback and the potential that the company might start paying a regular dividend. The deal collapse earned the semiconductor company a $2 billion termination fee from Qualcomm.
NXP Chief Executive Officer Richard Clemmer said in an interview Thursday that the push-back from China was a "purely political decision" and he's confident in the company's outlook.