Wall Street's Anxiety Over AMLO Is Running at Post-Election High
(Bloomberg) -- Uncertainty about Mexico's policy direction under incoming President Andres Manuel Lopez Obrador is rattling markets in the weeks leading up to the leftist leader's inauguration.
Investor anxiety, as measured by the peso's one-month implied volatility, has soared to the highest since his election victory in July. While the president-elect, known as AMLO, should be responsive to markets, he may defy them on some of the most hotly debated issues. Two of them include the now-scrapped Mexico City airport and an overhaul of the energy industry, said Shamaila Khan, director of developing-nation debt at AllianceBernstein in New York.
"We are cautious on Mexico risk as we don't think the AMLO risks are completely priced in," she said.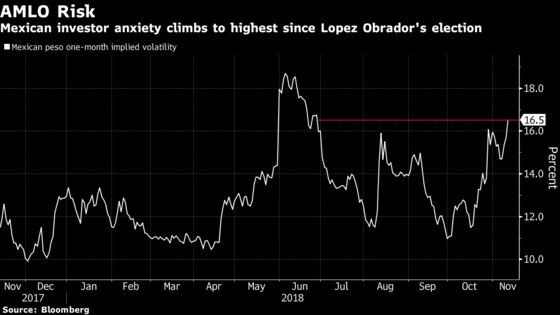 Most recently, investor confidence has been shaken by a push from Lopez Obrador's ruling party to cut certain bank commissions. Senate members of the Morena party backed the proposal anew on Monday, days after Lopez Obrador insisted he won't change banking laws for at least three years.
"That will add to investors' concerns about AMLO's ruling style and policy stance in the future," said Esther Law, senior investment manager for emerging-market debt at Amundi London. "With MXN at current levels, I think more of the risks have priced back in, but I fear there could be more weakness to come if the airport project is confirmed to not go ahead and the external environment continues to trade on the weak side."